Are you searching for the best Godaddy alternatives for web hosting? Are you having problems with Godaddy and looking for something more reliable? Or perhaps you are fed up with their long customer support waits, costs & bad uptime? If you answered YES, then check out best Godaddy alternatives for web hosting to migrate your website today!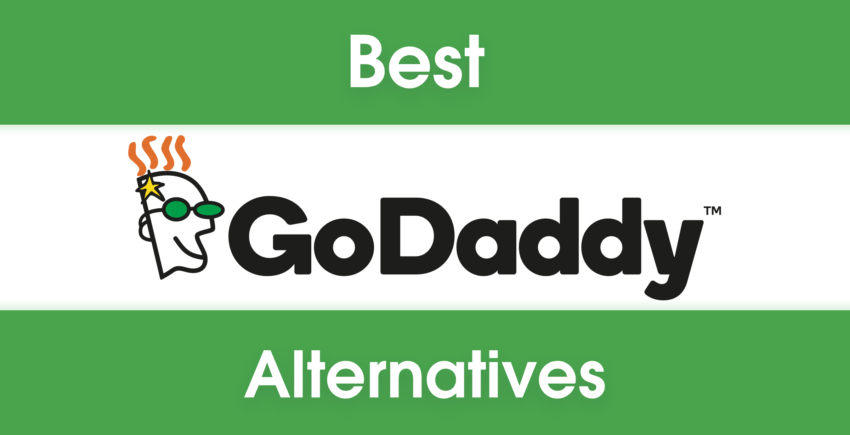 Disclaimer: This page contains affiliate links. When clicked and a purchase is made, the owner of this website will receive a modest referral commission. Thus doesn't affect your purchase at all. You get the best discount by clicking them and it also let's me eat my favorite peanut and jelly sandwiches. Thanks.
Although Godaddy is known globally for its domain sales and tv ads, it's not so hot for some with their web hosting services. This is obvious why MILLIONS of people just like YOU are looking for some reliable web hosting to create your website. If that wasn't the case, then you wouldn't be here right now on this blog reading to awesome blog to discover the best Godaddy alternatives, right?
What To Expect In This Review of Best Godaddy Alternatives?
Today, I will share with you guys my personal recommendations of some other web hosting services that outperform Godaddy. After you review these comparisons below, then you will have more ideas of some better options for your needs. Hopefully, these competitors below will save you lots of money, time and frustration online.
Why Godaddy Alternatives?
When it comes to customer support, many customers have given them a 1-star rating on Trustpilot. Many on the site complain about increased costs of domains and domain privacy protection, unreliable web hosting, billing issues and long customer support responses.
What problems or issues have you personally experienced with them? Let us know below in the comments area. If are currently hosting your website now with Godaddy and would like to migrate it to another web hosting, keep reading to see the best Godaddy alternatives for web hosting.
My Experience Using Godaddy
I initially got started with Godaddy buying domain names. To date I have purchased over 30 domains on Godaddy. My goal as is today was to create simple WordPress websites online for myself and others. However, I decided to make a change and leave them. Why? Costs and customer support. Let me explain briefly.
To create a website online you need a domain name and web hosting. Over the years the pricing of Godaddy domains and web hosting have increased substantially. Also, I notice that customer support waits for tickets and phone are longer to respond. Is this your case or something else?
As a blogger and entrepreneur I am always looking for ways to save money and time online. I am sure that you would agree that you work really hard for your money and don't want to waste. If you are here looking for the best Godaddy alternatives, then it means that you too have lost money and are not happy.
How Is Godaddy Hosting?
As you notice above in the graph, there are several different web hosting packages offered by Godaddy. Their web hosting starts at $5.99/month shooting up to $129.99/month. Overall, when you compare their web hosting with many of their competitors, Godaddy is more expensive and offer less resources.
If you want to create a website using WordPress, below you find some of the best WordPress hosting services to use. All of these providers have faster sever performance, better page loads, security and faster customer support than Godaddy.
Initially when I searched online for Godaddy alternatives, there were literally THOUSANDS of results as you can imagine! But of all of those I will reveal which ones have actually performed very well for my blogs online.
There are really 4 web hosting providers that I really stand behind for beginners who want to divorce Godaddy today:
Best Godaddy Alternatives to Create Websites:
Before we really dig into the all of features, specs, and pricing of these Godaddy alternatives, I think that it is very important for you to be happy with your web hosting. You deserve better. Why? Because when you have web hosting that's not reliable, then this hurts your name & brand when people search online for you. For this reason, I think that you will appreciate how important it is to have FAST 24/7 customer support, great security, awesome uptime, unlimited resources & great performance.
One awesome thing about Siteground is that it is based in Europe with several data centers globally. They are known primarily for their fast page loads, security and technology. When it comes to technology, their Solid State Drives provide a 1000x increase in imput/output operations as compared to other drives.
Also, with their own Supercacher & CDN, they perform way faster with speed than Godaddy. I currently use the Growbig hosting plan to host 12 websites that I created. Due to their great WordPress performance and speed, they come highly recommended by WordPress.org.
If you want to divorce Godaddy right now, then Siteground offers FREE site migrations to transfer your site. They have their very own plugin that does all of the work for you. Siteground has a 5–star rating on Trustpilot for excellent customer support.
They offer a 30 day money back guarantee.
You can use the link below to signup for Siteground & get up to 70% OFF.
Click this Special Link Here to Signup for Siteground NOW!
A2 Hosting is another awesome web hosting provider starting at only $2.99/month that is FASTER than Godaddy web hosting. They are known primarily for their 20X FASTER turbo speeds which are due to their SSDs. These perform up to 300% faster than Godaddy.
When I first started with A2 Hosting, I started off using their Startup hosting plan. Being that I loved it so much I decided to upgrade to A2 Hosting Drive plan. This plan is probably best for bloggers and affiliate marketing.
If you want to divorce Godaddy right now, then A2 Hosting also offers a FREE site migration service to transfer your site to their platform. They have their very own plugin that does the work for you. They have an ANYTIME money back guarantee which extends beyond 30 day refund policies. Also, they have great reputation with fast 24/7 customer support.
You can use the link below to signup for A2 Hosting & get up to 66% OFF.
Click this Special Link Here to Signup for A2 Hosting NOW!
If you are concerned about the environment and would like to ECO-friendly, then GreenGeeks is the best Godaddy alternatives for web hosting. Their web hosting is pretty cheap starting at only $2.95/month in comparison to $5.99/mth at Godaddy.
GreenGeeks has amazing 24/7 customer support with a 4.7 star rating out of 5 on Trustpilot. They also their very Supercacher and CDNs for faster speeds and page loads. Their uptime is also rock solid and super reliable. You will also get today a FREE Domain and  SSL certificates which are great for selling products and services online. They have a 30 day money back guarantee and you can get up to 60% OFF today on GreenGeeks.
Click this Special Link to Signup with GreekGeeks NOW!
Hostinger is probably the cheapest alternative to Godaddy that you will find barnone. They web hosting starts at only 0.99/month! YES, you read that right. Only 99 cents per month for web hosting. This makes it super duper easy for anybody with a pulse to get started only no matter your budget.
As you can see above with the graph, their web hosting is way cheaper than Godaddy with web hosting ranging from only 0.99 per month to $7.45/month. They are great for beginners online wanting to creating 1 website or even unlimited websites online for multiple projects. They have a excellent reputation with fast 24/7 customer support also. When you get started today, you can a FREE domain & SSL certificate. Hostinger offers a 30 day money back guarantee.
Today you can get up to 90% OFF Hostinger!
Click This Special Hostinger Link Here Right NOW!
Conclusion
If you have been hosting with Godaddy web hosting for quite some time and are ready for a change today, then it's time for you to make a move right now!
There are literally THOUSANDS of web hosting providers online that can be used to create and manage your website online. Although Godaddy is popular and does a lot of marketing online, this doesn't mean that they are for you. If you stay with web hosting provider that you don't like, then you continue to be unhappy as you are right now. There is no need for that especially if you are spending your hard earned money and not getting the results that you deserve with your business online.
Remember, then your website experiences lots of downtime and your visitors can't find you ,then you are losing money and credibility. And if you are experiencing these types of problems and more and can't get them resolved, then this is a big problem.
The web hosting providers that I have recommended above to you today are services that I can stand behind. Which one of our best Godaddy alternatives for web hosting will you get started with today? Let me know in the comments below.
In the meanwhile, I hope that you guys have much success online in your endeavors of creating your websites. Also, I hope that you have much success in 2020 and beyond!