Do you want to build a website today with Hostgator WordPress hosting, but not sure if it's for you or not? If you answered YES, then this Hostgator WordPress Hosting Review will reveal what I honestly think about them. Keep reading to find out what you MUST know before signing up! If you don't you WILL regret it!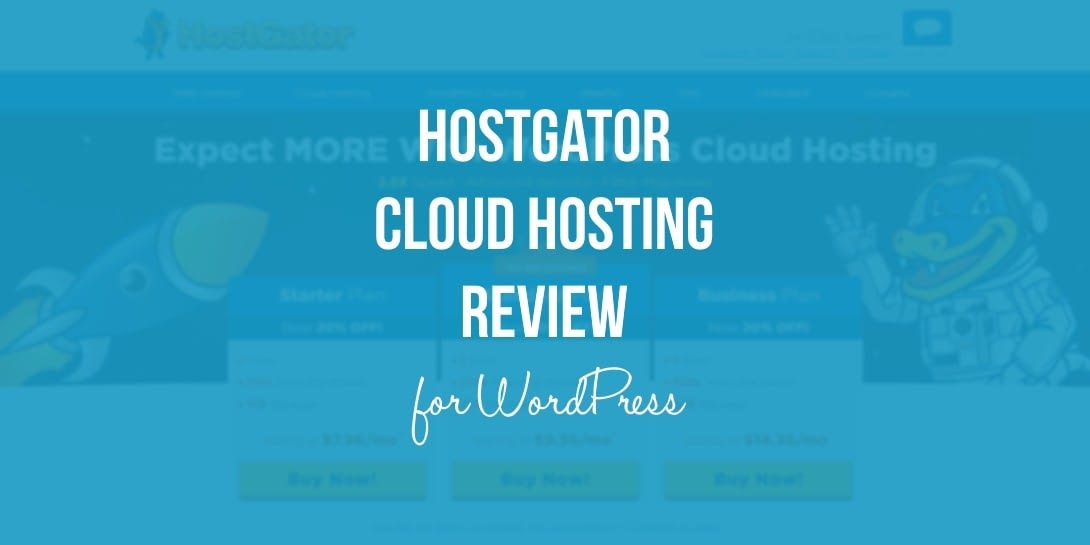 What To Expect In This Hostgator WordPress Hosting Review?
As an experienced blogger and entrepreneur online I will teach you what you need to know about web hosting in general. Also, you learn how dirt cheap their pricing is in comparison with their competitors and also why you should take advantage of Hostgator WordPress hosting to create your websites. There are many Hostgator reviews online. Some are good, while others are bad. Today in this review of Hostgator WordPress I will give you both the good and bad that other Hostgator reviews leave out. With this you will be able to make a good decision about getting started.
I know how important it is to make good decisions and especially with web hosting services. I understand why you are here today on my blog because you want reliable information that you can trust 100% right?
Today I will talk to you about the costs, features, and benefits, uptime, security and even their customer service. With all of this information you will have a complete picture of what to expect & also the benefits of hosting with Hostgator today!
Something that I realized off back is how cheap & reliable their managed WordPress hosting services are. Hostgator has been around for a long time and today we will cover everything they offer for building WordPress websites online.
Hostgator WordPress Hosting Review: The WordPress Managed Plans
Something that I like about Hostgator WordPress hosting plans is that they are very easy to understand and straight-forwarded. They work on a cloud and are pretty fast.

Starter Plan 
Costs only $5.95/month
Host 1 website
Handles 100,000 visitors per month
1GB Backups
Free SSL Certificate
Who Should Use The Starter Plan?
The Starter plan is deal for beginners who will be creating their 1st website or have web traffic under 100K. But again as your website traffic grows which is to be expected, then you can simply scale up.
Standard Plan  
Costs only $7.95/month
Host 2 websites
Handles 200,000 visitors per month
2GB Backups
Free SSL Certificates
Who Should Use The Standard Plan?
This plan is designed for much larger websites with higher volumes of web traffic. This plan would great also for entrepreneurs doing affiliate marketing,etc.
Business Plan
$9.95/month
Host 3 websites
Handles 500,000 visitors per month
Free SSL Certificates
Who Should Use The Business Plan?
This  WordPress hosting plan may be best for large organizations, corporations, enterprises with this higher tiered web traffic. And remember that you will be able to create 3 WordPress websites using this plan.
Money Back Guarantee
So how does the refund policy work for Hostgator WordPress hosting plans? Industry standard for most web hosting services is 30 days. However, Hostgator offers a 45 day money back guarantee on hosting services. They have both chat & phone-based customer services in the event you need to call.
WARNING! The following managed WordPress hosting services are NOT cheaper than Hostgator, but have significantly faster page loads and lightning speed servers and are highly recommended ONLY if you want above and beyond web hosting!!
As you can see above guys, there are tons of competitors that offers Managed WordPress hosting services. However, the above don't beat Hostgator with costs! So if you are cheap and on a budget, then go for Hostgator.
What You Must Know About Hostgator Managed WordPress Hosting
There are a few things that you should know about Hostgator before you get started today. Hostgator uses cPanel hosting so if you are familiar with this platform then you will have access to many of the same tools that you are used to.
Hostgator is one of the only web hosting providers that gives advertising credits towards pay-per-click advertising when you get started. In this case you will receive $100 towards your campaigns to drive web traffic fast to your new Hostgator website. But you should know that you MUST be a new to Google ads to use it.
How does the pricing work for Hostgator WordPress hosting?
The Pricing for Hostgator WordPress Starter Plan:
$5.95 per month for 36 months
$6.95 per month for 24 months, or
$7.95 per month for 12 month term
But for pricing on Hostgator WordPress Standard Plan:
$7.95 per month for 36 months
$8.95 per month for 24 months
$9.95 per month for 12 months
For the Business Plan..
$9.95 per month for 36 months
$10.95 per month for 24 months
$11.95 per month for 12 months
Now that you understand how these special introductory deals work, now it's time to determine which of the 3 Hostgator WordPress hosting plans will be best for your needs.
In my experience online creating websites I think that it's always a smart idea to buy upfront 3 years of web hosting versus just going month to month. YES it is an investment, but a very smart one that will save you lots of money on both the front and back end. Why? If you don't and just buy a years worth, when the 12 month term is over you will pay a HIGHER rate for renewal. Just saying…
Customer Support
Hostgator has 24/7 customer support with both phone & chat. With the websites that I have hosted using Hostgator, I have never had any issues personally with them. However, this review is not about me. It's about you! You remember that I promised to give you earlier both the good and the bad that most Hostgator reviews online typically don't reveal to their viewers?
Well here it is…
On websites like Trustpilot.com which is highly respected, many present and past customers have left Hostgator reviews.

Based on 493 Hostgator reviews that have been on the website, some like it while others HATE it. Based on this feedback, they have a 1–star rating out of 5.
Also on Consumeraffairs.com there are similar ratings from Hostgator users. However, when you look for example at Hostgator reviews on the BBB website they have an A rating!
Why do I share all of this info with you on my Hostgator WordPress hosting review for learnanet.com? Because I am honest and transparent and I would like my viewers to know this. If you like this, drop me a comment below…
I realize that you work really hard for your money and that it should be spent with the best web hosting provider for your business online.
So sometimes I know that people can get hung up reading some reviews online, but the reality is that ALL web hosting services online have complaints by customers.  I have seen that this comes with the territory and that you can't get away from it. So as a blogger I wouldn't quickly rule out a web hosting company due to complaints. I always try to look at the big picture and give them a chance. Will you today??
Site Transfers
Do you want to move your website from your current host? If so, then Hostgator has a FREE site migration service that will transfer your website(s) over to their platform.
For more details on how to get started, you can visit here www.hostgator.com
Security
Another area that I wanted to cover in this Hostgator WordPress hosting review is how websites are kept secure. This area is really important especially being spammers and hackers are always trying to disrupt or take over websites. There are so many ways that you can help to keep your website secure online for both you and your customers. One great way is by using WordPress plugins that you will be able to install for free on your cpanel of your Hostgator website. However, the following are a few security measures that Hostgator has in place for WordPress websites.
Hostgator WordPress Hosting Review Conclusion
In this review of Hostgator's WordPress hosting we have covered several areas to give you a good idea of what they offer for creating WordPress websites online.
With their managed WordPress platform, it's not only very secure, but also fast with performance on their cloud servers. Having a website that loads fast is extremely important especially for people who search for your products and services that you sell. Hostgator maintains a really good average of 99.9% uptime which means it is very reliable.
What type of WordPress website will you create today using Hostgator WordPress hosting? Which plan above do you think will be best for your business needs today?
Have you ever used Hostgator before in the past? If so, what do you personally think about them?
Of course as mentioned before, there are many Hostgator reviews online. Some good, some bad. But today you guys have heard from me. Let me know hear from you in the comments area below! It's your time to shine!