If you googled or searched for a Hostwinds WordPress hosting review 2020 and made it to my site, then it means that you are curious about using Hosting web hosting to create your website.
Just like YOU, thousands of others wonder about the same thing. I have searched for quite some time to find reliable hosting that provides essential website building tools for beginners. Finally I found it and this Hostwinds WordPress hosting review 2020 will reveal exactly what I discovered.
Before you signup with Hostwinds, keep reading this review below to find out the good and bad that you must know first! By doing so, you will save both time and money. Also, you will see for yourself why you should use Hostwinds to create your website!
Disclaimer: This Hostwinds review has affiliate links. If used you will a big discount on Hostwinds web hosting and I may receive a modest referral. This helps me make my favorite peanut butter and jelly sandwiches. I appreciate your support.
What To Expect In This Hostwinds WordPress Hosting Review 2020
I would like to state off back that I became a new member of Hostwinds recently to try out their web hosting. Although this website is hosted at Hostinger, I decided to create another website to test another host. Why? Well, I saw an ad that mentioned Hostwinds is 500 times FASTER than others so I needed to confirm this! This no doubt got my attention & probably yours too? Iwas wanted to see how great their customer support was and makes their WordPress hosting different from others. This may be the same reason that you searched for a good Hostwinds review also, right? Yup!
Hostwinds as I have come to appreciate is known primarily online for their fast & affordable WordPress hosting. But if you are reading this Hostwinds review, you probably want to know if it 's really worth creating a website with them or not? I had to run a test FIRST to be able to write a good review for you today.
In this review, I want to cover some very important areas. For example, what will it cost you to use their shared web hosting? How is customer support? Security? Costs? Renewals? The real benefits and disadvantages of using Hostwinds hosting? And finally I want to compare some of the top Hostwinds competitors to help you to see how they are superior (or inferior) to them in some aspects. By looking closely at these different areas, it will help you to see why Hostwinds is a good fit for your WordPress site today.
Check out this video:
The Pricing of Hostwinds WordPress Hosting:
As you can see with the graph above, there are 3 shared hosting plans that Hostwinds has to select from:
Basic starts at only $3.29/month [Normally $8.99/mth]. 
This plan in my opinion is the best one for beginners to create websites. It allows you to only host 1 website. It's not much, but just what you will need to start. As your website grows in traffic, then I recommend upgrading to another tier.
Unlimited Disk Space

Unlimited Bandwidth

Host Up To 1 Website

Website Builder

3 data centers [Seattle, Dallas, and Amsterdam]
This plan is great for beginners and for bloggers who need minimal resources. It is great for those super tight budgets.
Advanced starts at only $4.23/month [Normally $10.99/mth]
Unlimited Disk Space

Unlimited Bandwidth

Host Up to 4 Websites

Website Builder

3 Data Centers [Seattle, Dallas and Amsterdam]
This plan is the 2nd tier of the shared hosting plans. It's great for bloggers and small business owners who want more resources. It allows you to host and create 4 websites which gives you more wiggle room than the Basic plan.
Ultimate hosting plan starts only at $5.17/month. [Normally costs $12.99/month] [Most Popular]
Unlimited Disk Space

Unlimited Bandwidth

Unlimited Websites

Website Builder

3 Data Centers [ Seattle, Dallas & Amsterdam]
This plan is ideal for business hosting and creating e-commerce stores. Also, the Ultimate shared hosting package is gold for people wanting to create multiple websites and add multiple domains. for doing affiliate marketing, network marketing, or even Amazon affiliates, etc.
How Is Hostwinds Customer Support? 
The good thing about Hostwinds is that they have great 24/7 customer support via phone, chat and email. This makes it really convenient to talk to a representative anytime you want if you have questions or issues. This is something that very important to me as a blogger and developer and should be for you too! 
To be honest, I can't say that I'm a so-called expert or guru with Hostwinds. I am more familiar with other providers ONLY because I have dealt with them longer. But I also realize that when you have a website and are new to a platform, you don't have to the web hosting expert. That's why Hostwinds gets paid to be there when you call. 
As part of this Hostwinds WordPress hosting review, I wanted to share with you today what other people think about using Hostwinds. This way you can get the big picture and my review remains unbiased.
A great place that I think will help you have more of big picture is Trustpilot. According to several Hostwind reviews by users, they have a 4.5 rating out of 5 which is excellent!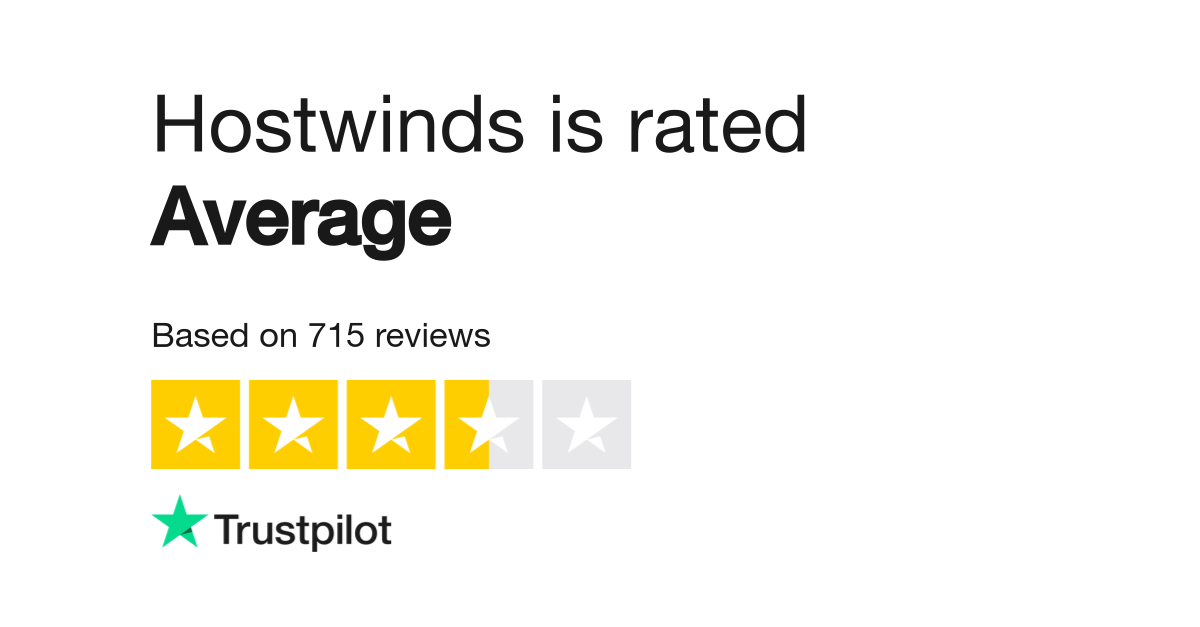 With the ratings that they have received,
71% say that Hostwinds web hosting is Excellent
13% say that they are a Great web hosting provider
3% feel that it is a Average web hosting provider
4% stated that they are a Poor host while..
9% said that Hostwinds was Bad
Why do I share this with you today in this Hostwinds WordPress hosting review? Well, because all of my reviews online are 100% honest. This is something that most people (marketers) won't tell you in their Hostwinds reviews. But here on this blog you will get good and the bad. This way you can make a solid decision that you will be happy with.
Benefits of Hostwinds Web Hosting
There are some really good perks that come with Hostwinds.
As a domain registrar, they give you a FREE domain, CDN, and SSL certificates. 
Most web hosting provider charge for these upfront, but not the case with Hostwinds. 
You need a CDN for a number of reasons. However, the main reason to handle the web traffic that your website receives globally. They also prevent your website from crashing due to spikes in traffic by visitors. They help promote faster page loads and delivery of your content to thus improve customer experience on your website.
SSL certificates are great to protect your website browser and encrypt info. This can be particularly great if you are selling products or services on an eCommerce store.
For websites that don't have a SSL certificate installed, Google marks them unsecure on Chrome to your visitors. This can be discouraging and quite a deterrent for people that see your website in Google search results.
Thankfully Hostwinds understands this and will provide you a SSL certificate to protect your website.
I also like how proactive they are with security and how serious they take it. For example, in addition to the SSL certificate that they give you, they will also perform WordPress hardening on your website. I like this because it's like putting 2 pairs of extra latex gloves for added protection against hackers, spammers and brute attacks. Now it is true that you can install WordPress security plugins that will perform some of these same measures in your cPanel dashborad. But I like that Hostwinds is ahead of the game and does it from the getgo.
Hostwinds Restrictions
There are no real restrictions or hiccups that I have noticed with Hostwinds.
Many web hosting providers online what's called "unmetered bandwidth", but don't really clarify what exactly it is. With Hostwinds however, they tell you upfront that you have "unlimited web space and bandwidth". This is great to know that way you will know upfront how much web traffic your website can handle. There are no surprises and this is something that I like. 
Hostwinds Money Back Guarantee
Hostwind refund policy when comparing it to other competitors is 60 days! The industry standard for many of the best WordPress hosting services out there is 30 days. Such hosts as Kinsta, Greengeeks, WPX Hosting, Siteground, and A2 hosting will offer this.
However, if you perform a diligent search online, you find that some web hosts extent longer.
For example, InMotion offers 90 days. Dreamhost gives customers 97 days to try their service. However, Mochahost knocks them all out of the ballpark by doing a 180 day money back guarantee beating them all!
Although Hostwinds is known more for their affordable web hosting, their refund policy is not the longest as you could see with 3 examples above. But although this is the case, I still HIGHLY recommend them for beginners for web hosting due to their faster page loads, performance and customer support.
How Is Hostwinds Uptime Performance
Their uptime is really awesome for being such a cheap web hosting provider. They maintain a 99.9999% average of uptime performance on their servers. That is excellent and through the roof in comparison to other web hosting providers online that normally get an average of about 99.95%. 
This uptime of a website is so important and is a figure that you should know BEFORE getting started with ANY web hosting online. Why? Because when your website has great uptime, it means that it is online and available when people search for your products and services. However, if your website is down when people search for you on Google, Yahoo and Bing, then they will go somewhere else and you WILL lose money. 
So when you think about websites that use Hostwinds WordPress hosting, a 99.9999% uptime amounts to about 2 seconds down over 30 days if you use a uptime calculator.
Let's put this in to perspective that way you can appreciate how reliable Hostwinds web hosting is…
Today, you searched online looking for a good Hostwinds review wanting to know more information about how to create a WordPress website. Thankfully you landed on my blog and are getting the info you were researching to make a decision before getting started.
Outside of normal maintenance scheduled that every web host does, I think that Hostwinds does an awesome job in this area.
The Truth…
The truth that most people (marketers) won't tell you online is that ALL web hosting providers have a small percentage of "downtime". And this includes Hostwinds web hosting. But again, they do an AMAZING job maintaining websites on their servers and are super dependable. 
What About Hostwinds Competitors?
Hostwinds just as any other web hosting provider has competitors in the field. But I think that Hostwinds stands out not only with their fast WordPress hosting and low prices, but also in other areas.
However, there are cheaper Hostwinds competitors that might give them a run for their such as Hostinger  at only $.80/month. Yes, you read it right! Only 80 cents per month for their Single shared hosting plan that lets you create 1 website.
Following Hostinger, Namecheap web hosting who offers FREE domain privacy has Stellar plans starting at $2.88/month. Visit here: www.namecheap.com
But when it comes to fast speeds, A2 Hosting kicks butt and trails Hostwinds in performance. A2 Hosting has WordPress hosting starting at $3.92/month. However, their Swift plan and Turbo offer unlimited web hosting which is great for affiliate marketing. But again Hostwinds is cheaper starting at only $3.29 per month.
To get more details about creating websites A2 Hosting, you can click this link here!
More Highlights of Using Hostwinds Hosting
50%

OFF with coupon code learnanet
Free Domain
Free CDN

SSL Certificate

Website builders with Weebly

Hosting Applications such as WordPress, Minecraft, Vbulletin, Prosper202, CPVLab

eCommerce 

Easy WordPress Installation

60 day Money Back Guarantee
Firewall Setup & Security Audits of Website
Hostwinds WordPress Hosting Review 2020 Conclusion
I realized that you searched today for a good Hostwinds web hosting review and that's why you clicked on my website. So today, I wanted to give you just that along with some honest straight forward information that will help you to learn more about signing up with Hostwinds.
Perhaps you currently host somewhere else and considering to migrate your website over to Hostwinds for free but needed more info before putting on your training wheels.
As a blogger, I understand that it is a big step and Hostwinds makes it super easy to migrate your website from other hosts. If you are totally new to web hosting & looking for a really affordable way to create your website, then Hostwinds web hosting is a good fit.
I realize that choosing a web hosting provider is a task that should be taken seriously. It's absolutely the most important decision that you will EVER make for your website. I say this because as a blogger, I recognize that having a dependable web hosting provider that's affordable & reliable 24/7 when your visitors are searching for you on the web is a MUST have.
Also, it goes without saying that good customer support is key in the event you experience issues with your site or just need some help. Thankfully, Hostwinds has you covered in this area also. I LOVE what Hostwinds is doing for small business owners with their web hosting services and I'm sure that you will love too if you try them today!
Thank you for reading this Hostwinds Wordpress hosting review 2020. Now that you have all the info that you need to get started, now it's time to take action to get your website online in minutes.
Get started right now creating your website by clicking below! I hope you much success in your business online!!