Hey guys are you wondering if Kinsta hosting is really the best WordPress hosting for 2020 for entrepreneurs? You are probably asking yourself..what makes Kinsta really different from other managed platforms? Is Kinsta really worth it and 200% faster than other host? To discover the truth, keep reading this Kinsta WordPress hosting review!
I have been online nearly a decade and during this time I have come across several providers who specialize in managed WordPress hosting. You might think of some common brands like WP Engine, Namecheap, WPX Hosting, Knownhost, JavaPipe, and even Liquid Web.
No doubt, these as well as Kinsta managed hosting here will definitely get you online fast especially if you need a rock solid WordPress website.
Disclaimer: This page contains affiliate links. When used, learnanet receives a modest commission for referrals. This doesn't affect your costs at all. It actually gives you the best discount available on Kinsta hosting services and allows to me make my favorite peanut and jelly sandwiches.
What To Expect in This Kinsta WordPress Hosting Review
As mentioned before guys in this Kinsta review we will be talking all about the company behind the name, their reputation, customer support, uptime and other details that you MUST know before getting started.
Also, to be fair and honest in this Kinsta WordPress hosting review as with ALL of my web hosting reviews, I will give you some alternatives in the same playing field. Is this okay with you? Most of readers think so! Also, if you have any questions or comments, don't forget to drop them below in the comments area please.
Who Is Kinsta Anyway?
Kinsta, at www.kinsta.com is a premium managed WordPress hosting provider based in Los Angeles, California, USA. They are primarily known for their lightning fast page loads being it's powered by Google Cloud. With this cutting-edge technology, security, and infrastructure, they really come out on the top & leave their competitors in the dust.
Frankly, it's one of few managed hosts that offer hack free guarantees to its customers and is really performance driven. They have been in business since 2013 and WordPress is all they specialize in as a company.
As a fully managed platform, they even their own caching that definitely promotes super fast page loads and great serve performance.
With many of the best cache plugins for WordPress online, you have to configure them by yourself and this can be complicated for beginners. However, with Kinsta WordPress hosting they have this already figured out have caching fully integrated already with their servers.  This in addition to their infrastructure gives you 200% FASTER speeds and performance than other web hosting providers.
But let me stop rumbling and dive into what else makes Kinsta built for fast speed in this Kinsta WordPress hosting review.
Checkout this video to learn more what to expect from Kinsta.
Get Started with Kinsta WordPress Hosting Here => www.kinsta.com
Other Companies Who Also Use Google Cloud..
Spotify
Snapchat
HTC
Best Buy
Philips
Coca Cola
Dominio's
TripAdvisor
Sony Music
and More!
With this said, if you are looking for a pinto cheap around the block shared web hosting provider as a beginner, then I must honestly say in this Kinsta review that they may not be for you yet. Just being honest guys. That's what my viewers expect.
However, you can check out some shared hosting on our resource page here that are recommended for beginners to create websites online.
Kinsta managed WordPress hosting is for entrepreneurs who want faster performance, quick & responsive 24/7 customer support and top notch service with expert WordPress developers. The above are websites that get high volumes of visitors in the millions! They trust & use Kinsta hosting to manage their websites. Should you?
Kinsta WordPress Hosting Review: Kinsta Hosting Plans [Updated Below]
Now let's talk about the Kinsta pricing and what it is actually cost to use their managed WordPress hosting services.
NOW Updated! Get More SSD Storage with Kinsta's Platform..
Starter Plan: Only $30/month, 10 GB SSD storage, 20,000 visits per month [Great for beginners to create 1 website]
Pro Plan: Only $60/month, 20 GB SSD storage, 40,000 visits per month [Great to create 2 websites]
Business 1: Only $100/month, 30 GB SSD storage, 100,000 visits per month [Great to create 5 websites]
Business 2: Only $200/month, 40 GB SSD storage, supports 250,000 visits per month [Great to create 10]
Business 3: $300/month, 50 GB SSD storage, supports 400,000 visitors per month [Can create 20 websites]
Business 4: Cost is $400/month, 60 GB SSD storage, great for websites with 600,000 visitors per month [Can create 40 websites]
Does your website get over 1 million visitors per month? If so, then you should look at Kinsta's Enterprise hosting packages which handle these high volumes of web traffic.
NOTE: Kinsta WordPress Managed Hosting is flexible & allows you to pay month-to-month or choose annual plans. You will receive 2 months FREE with any annual hosting plans. Awesome deal!
To get more details on getting started with Kinsta WordPress Hosting, visit here => www.kinsta.com
Money Back Guarantee
I wanted to mention in this Kinsta WordPress hosting review that Kinsta offers its clients a 30 day money back guarantee. This refund policy is quite standard in the web hosting industry. I mention this because although Kinsta is the KING for managed WordPress hosting services, there are other hosts who extend even longer.
For example, I wrote a Pressidium review here showing how they give clients 60 days.  Inmotion hosting offers clients a 90 day refund policy while Dreamhost offers 97 days. However, Mochahost crushes them all in the area with an amazing DMV long 180 day money back guarantee!
Although I do feel that Kinsta knocks the socks off its competitors with speed, uptime performance and customer support, it's also good to know what their competitors offer in this field also.
Performance & Speed
Next in this Kinsta review, I would like to discuss speed. Speed is extremely important and obviously a huge factor that Google uses to rank websites in the SERPs. Websites that have slow page loads rank lower, while faster page loads result with higher Google rankings. This is largely because if people who clickthru your website have to wait several seconds for your website to load will likely bounce off your website and go to your competitor's website.
So how does Kinsta WordPress hosting ensure fast performance?
There are many things that contribute to the fast speeds and performance that Kinsta's managed WordPress hosting delivers clients.
Kinsta has 20 data centers that use the Google cloud around the world where you can host your websites.
Another contributing factor are the FREE CDNs that are in place.
Why use a CDN? According to gtmetrix, help in many ways to deliver & distribute your website content faster to your visitors throughout the world. They also prevent crashes in the event your website experiences spikes in traffic. This is something to be expected with ANY website online especially as your web traffic grows and becomes more popular online. I personally get LOTS of traffic from all over the world with people just like YOU searching for super reliable web hosting to create websites from Google, Youtube, forums and more. So CDNs help to manage all of these visits and that's why I trust and recommend Kinsta.
CDNs are something that Kinsta hosting provides for FREE on their platform and they help to deliver super fast page loads and your content globally. This again is important especially for your potential customers who search for your products & services in search engines. If your website is not reachable in a hot microwave second, then people will simply bounce off of your page & go to your competitors in the SERP results. This obviously that you will lose money and potential sales:(
The awesome thing about Kinsta WordPress hosting is that it's optimized for HIGH performance and can handle and process HUNDREDS of THOUSANDS & even MILLIONS of website visitors at once. That's the power of having Content Delivery Network that delivers your content super fast creating a awesome user experience. With Nginx powering their websites, this is how big brands online really deliver and never crash with spikes.
Another thing that contributes to their super fast speeds is that it's managed hosting versus shared web hosting. With most shared web hosting providers, thousands of customers are stacked are single servers which delivers slower performance. However, the experience is superior with Kinsta hosting being it works on Google Cloud. With this type of high performance, uptime availability & scalability users should expect to pay more for managed hosting. It's worth every penny and you will thank yourself later!
To get started with Kinsta WordPress Hosting now, go here => www.kinsta.com
Security
Google in 2018 made an important announcement about having SSL certificates. The outcome was that websites without them would be marked unsecure and may rank lower in Google. Kinsta managed WordPress hosting understands this clearly and gives you FREE SSL certificates for all of your websites through Let's Encrypt.
These will be especially important if you are selling products on your websites and perhaps want to create an eCommerce store to accept payments. These SSL certificates will protect and encrypt personal data on your websites and assures customers their info is safe. On top of this Kinsta has a hack free guarantee on your websites were they will repair your website. I don't know too many other web hosting that offer this. These are provided using Let's Encrypt for FREE.
Also, with Kinsta WordPress hosting you will get auto backups and copies of your website which make it easy to restore with a click. Also, you can count on your websites being monitored 24/7/365 to block & protect against malware and hackers.
Kinsta Customer Support: How is it?
The next thing that I wanted to cover in this Kinsta WordPress hosting review with you guys is their customer support. Now, before you get started with Kinsta today, you should know something about them. Their customer support team takes their job seriously and knows what they are talking about. With a team composed of WordPress developers who really know and understand WordPress.
What's more, their 24/7 customer support is not only super fast but also very nice. That's my personal opinion, but what do others say about their experience using Kinsta hosting?
As part of this review of Kinsta, I wanted to show you guys an external source that is reputable and respected online called Trustpilot.
On this source, you will see how Kinsta has earned a 5-star rating by its customers due to their superb customer service, awesome page load performance, and uptime. There clients mentioned how they have hosting with other providers in the past, but finally glad that they found Kinsta hosting.
Do you currently use Kinsta right now? If so, let me know about your experiences with their customer support. Many clients rave about their hosting, but I would also love to hear your thoughts below.
To get started with Kinsta WordPress Hosting now, go here => www.kinsta.com
What About Kinsta Competitors?
Kinsta just like any other host out there has competitors that fight your business. One of their biggest competitors Cloudways, for example does 1 thing that Kinsta doesn't and that is they offer a FREE TRIAL on their managed cloud hosting services to clients. No credit/debit card required.
Cloudways also has 60 data centers globally versus Kinsta's 20 data centers. Something else that is distinct about Cloudways vs Kinsta is that allow you to create a website in a staging environment first BEFORE going live along with the option of using 5 different servers: Digital Ocean, AWS, Linode, Google Cloud, and Vultr.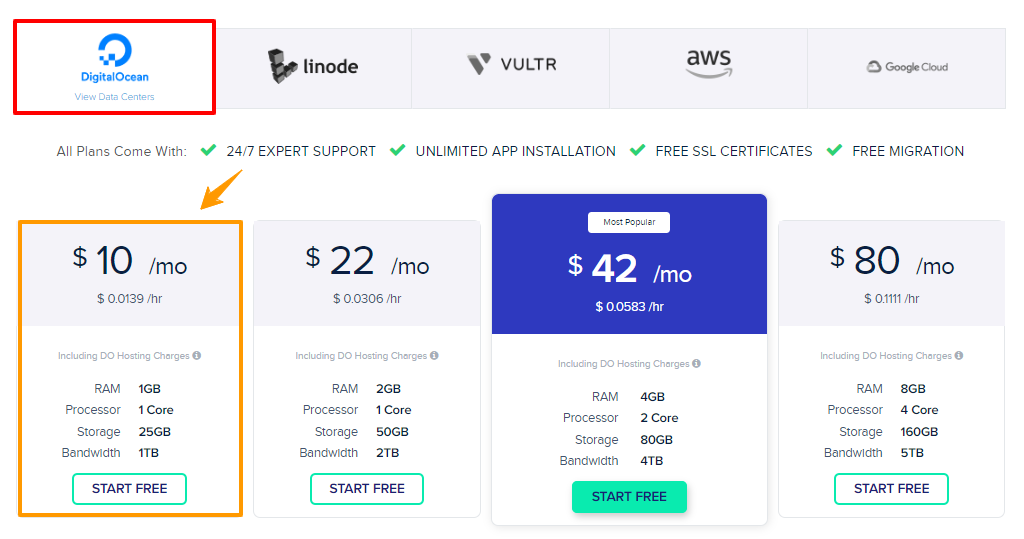 For more details on using Cloudways FREE Trial now, click this special here!
Another big competitor of Kinsta is Coolhandle.
Coolhandle is really cool WordPress hosting that is super reliable like Kinsta, but cheaper for small business. For example, if you checkout their Pro WordPress hosting starts at only $9.95/month. With Pro, it handles up to 500,000 website visitors each month and lets you create unlimited WordPress websites with unlimited storage space. You also get a FREE CDN and $250 in marketing credits to drive web traffic from search engines. They also have a 30 money back guarantee just like Kinsta.
For more details on using Coolhandle to create your website now with 81% OFF , click this special link here!
Liquid Web is another competitor of Kinsta that specializes in Nginx and fully managed WordPress hosting. They support high volumes of web traffic in the millions starting from only $29/month! They have been in business since 1997 with 1 MILLIONS websites hosted on their platform. They have 5 data centers globally with 100% uptime guarantee!
For more details on using Liquid Web to create your website now, click this special link!
Why do I share these competitors with in this Kinsta WordPress hosting review? Simple. I am honest and want you to see how to get the most value for your hard-earned buck.
I LOVE everything about Kinsta WordPress hosting and HIGHLY recommend using them to host your websites today. They are really awesome for supporting high volumes of web traffic. But, just wanted to share some other competitors with you that play in this ballpark.
To get more details on getting started with Kinsta WordPress Hosting, visit here => www.kinsta.com
Site Migrations
Do you currently host with another provider that you hate? Bluehost? Hostgator, iPage? WP Engine? If so, it's time to divorce them now and migrate your website over to Kinsta for FREE! You will be happy your did! It's actually a very fast process to move your website their platform.
I have found that some web hosting providers actually charge to migrate websites. But there is no costs to you at all to transfer your website to Kinsta. To start the process, you can get started using the button below. You can either use their WordPress Duplicator Plugin to migrate your website yourself or have customer support do it.
This short video shows how the WordPress Duplicator Plugin works to migrate websites.

But either way, if you are unhappy with your current web host's customer service, uptime or performance, then it's time for you to make a change today. Why settle for less? You deserve to have host that is 100% reliable with great customer knowledgeable customer support. Kinsta has a 30 day money back guarantee.

Kinsta WordPress Hosting Review Conclusion..
I realized that you searched today looking for a good Kinsta WordPress hosting review and that's why you clicked thru to my site. In today's brief review of Kinsta,  I wanted to deliver to you just that with some straight-forward honest information to help you to learn more about signing up with Kinsta.
It's possible that you are hosting right now with a provider that you don't like and want to move your site Kinsta today. As an entrepreneur and blogger I realize how big of a step this for you and the cool thing is that Kinsta will migrate your website for FREE.
You have learned a lot about what they offer with respects to managed WordPress hosting services. It's fully managed (unlike shared web hosting) and super reliable with great uptime & daily backups.
I realize that choosing a web hosting provider is job that be taken seriously to have a successful business. In fact, it's actually the most important decision that you will EVER make for your business website! This is true because when your potential customers search for your business online on Google and the search engines just like you did today, having a super reliable web host is a no brainer. It just make sense.
Which Kinsta hosting plan should you use to create a WordPress website now? Only YOU can decide which WordPress hosting will be best for your needs.
I recommend that if you are a newbie or beginner to managed WordPress hosting, go with the Starter plan today. It's only $30/month and will allow you to host 1 website online supporting 20,000 monthly visitors.
However, as your business website grows over time as all do, you can simply scale up as you are ready. This is ideal for beginners in my opinion being you may not have an immediate need to add multiple domains or create several websites. Also as a beginner, you may not have a long following or droves of web traffic already as with most established websites.
However, if you are an affiliate marketer, network marketer, in mlm, a developer or larger business, it would be best to go with the Business 1 or Enterprise plan above as these Kinsta hosting plans offer more resources & allow you to create multiple websites for your business and niches.  Kinsta has something for every entrepreneur's website needs.
Also, it goes without saying that great 24/7 customer support is GOLD in case you have questions, need help or have issues with your website. Thankfully Kinsta has you fully covered in this area and for this reason I highly recommend them, I love Kinsta WordPress hosting services and I'm 100% convinced that you will love them too!
Thank you so much for reading this Kinsta WordPress Hosting Review. Now that you have all of the info you need to get start creating your website in minutes, now it's time for you to take action! Get 2 Months Off Annual Plans!