If you are reading this A2 Hosting vs Siteground review, then you are you wondering if A2 Hosting is really better than Siteground? Which host should you create your website with today? In today's review, we will be going over the benefits and disadvantages of A2 Hosting vs Siteground for bloggers and small business owners.
Millions of people just like YOU with tight budgets are searching for reliable web hosting that won't break the pockets. So I have purchased and tested both A2 Hosting and Siteground web hosting services and this review will reveal what I think.
Disclaimer: This page contains affiliate links. If you used, I may receive a modest referral commission. You will receive a BIG discount on your web hosting. This allows me to eat my favorite peanut butter and jelly sandwiches.
A2 Hosting vs Siteground Review 2021 Overview
This is a really hot online that a lot of beginners and experienced entrepreneurs want to know the answer. In fact, one of the main reasons that I decided to write this post was due a A2 Hosting vs Siteground reddit discussion. There have quite a bit of discussions on from 2019 and 2020.
Being that I currently use both of these web hosting providers I wanted to help make a solid decision. Today I wanted to go over the ups and downs, benefits and disadvantages of both to help you see which one will be best for you.
Check out this video from Youtube:
As you guys could see in the video, there is a lot that both A2 Hosting and Siteground offer for creating websites, However, let review it quickly. There are many A2 Hosting hosting plans to choose from and something for every budget. In this A2 Hosting vs Siteground Review, notice a few more things below.
UPDATES ON A2 HOSTING PLANS:
Since this video above was released, A2 Hosting has made some changes with their web hosting packages. These changes are much better and reflected in the next graph below. If you have any questions, be sure to ask below in the comments area.
A2 HOSTING NEW PLANS:
Shared Hosting: The 4 tiers to choose from: The Lite [now Startup], Swift [now Drive] & Turbo Boost & Max. Startup is the cheapest plan starting at only $2.99 per month. Its particularly great if you just want to host only 1 site. Drive is $4.99 per month with unlimited options. However, the Turbo hosting starts at

$9.99

& $14.99 per month with speeds up to 20 TIMES FASTER.
VPS Hosting: The 3 plans are Managed, Unmanaged & Core VPS. Prices are $5 per month for Unmanaged. $25.00 for both Managed and Core VPS hosting plans. The real difference between the latter is root access ability and power.  
Reseller Hosting: Bronze, Silver, Gold, Platinum plans. Prices are $13.19 per month for Bronze, $18.74 for Silver, per month, $24.41 per month for Gold, and $40.91 per month for Platinum plan.
This video below shows beginners how to make a WordPress website using A2 Hosting:

To get up to 66% OFF A2 Hosting, visit here: www.a2hosting.com
Siteground Hosting Plans
Siteground has been around since 2004 and host over 2,00,000 websites. It is also one of 3 top web hosting recommended by WordPress.org for performance.
There are 3 plans with Siteground with a 30 day money back guarantee.
Old Siteground Hosting Plans: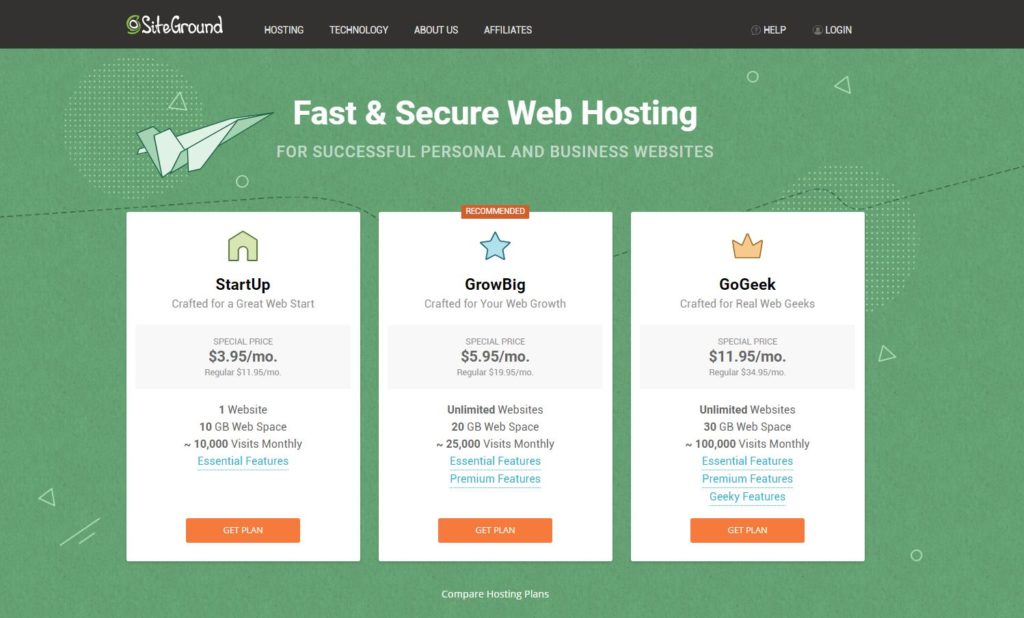 New Siteground Hosting Plans:
The Startup plan a $6.99/month gives you:
One website
10 GB Web Space
Suitable for ~10,000 visits monthly
All Essential Features
The Siteground Growbig plan at $9.99/month
Host Multiple Websites
20 GB Web Space
Suitable for 25,000 Visits Monthly
All Essential Features
Premium Features
The Siteground GoGeek plan at $14.99/month
Host Multiples Websites
40 GB Web Space
Suitable for 100,000 Visits Monthly
All Essential Features
Premium Features
Geeky Advanced Features
For more on Siteground hosting plans visit here www.siteground.com.
A2 Hosting vs Siteground Review – Pros & Cons
What's Good About A2 Hosting?
Ultra Reliable Servers
Free to Migrate Your Site
ANYTIME Money Back Guarantee
Up to 20 times faster speeds than other web hosts
Great 24/7/365 Customer Service & Chat Support
Free SSL & SSD
cPanel
Uses FREE Hackscan Protection to help block hacks to your site
Have Joomla, WordPress, Drupal, Windows & Linux
Cheapest Hosting Plan Starts at $2.99 per Month Which is Very Competitive
Has Data Centers in Michigan Asia, Singapore & Amsterdam
A2 Hosting Renewals
When it comes to promo and introductory specials, you will see that you can get A2 Hosting Startup plan for only $2.99/month. However, once your term is over it will renew at $8.99/month.
NOTE: This is actually cheaper than Siteground's renewals which saves you money in your business.
When you look at A2 Hosting Startup plan it has some restrictions. You can only host 1 website which is super basic and great for beginners. Also with Startup and Drive hosting plans you DON'T get the 20X Turbo speeds.
Visit here: www.a2hosting.com
What's Good About Siteground Hosting?
Free Website Builder
SSD Storage
30 Money Back Guarantee
Free Daily Backups & 99.99% uptime
Free Cloudflare CDN with 194 locations
Unlimited MySQL DB
Free Site Transfer
24/7 Support
Free App Installs
Free Email Accounts
Unmetered Traffic
Free SSLs & HTTP/2
cPanel & SSH
The Cons..
There is only one real con of using their hosting plans that I could find. When comparing A2 Hosting vs Siteground you will not receive unlimited or unmetered disk space & bandwidth with Siteground.
For Siteground's basic plan of $6.99/month you receive only 10GB web space whereas with A2 Hosting for $2.99 per month is UNLIMITED. Although most beginners don't really need more the 10GB web space, you still get more with A2 Hosting.
Siteground hosting plans have  metered options of 10GB, 20GB & 40GB depending on the plan you select (Startup, Growbig, GoGeek).
Siteground is very competitive when comparing them with their hosting packages. Many other web hosts such a Bluehost and Hostgator offer plans similar to them. However, if price is more important to you, then I think that you go with A2 Hosting for $2.99/mth.
Siteground Renewals
Siteground web hosting is super faster than A2 Hosting, but their renewals are more expensive. When you look at the Siteground Startup hosting plan for example that promos at $6.99/month, it will renew at $14.99/month.
NOTE: This is $6 dollars MORE than A2 Hosting's renewal prices.
In this brief Siteground hosting plans overview, we have discussed what comes with the plans and compared it with what A2 Hosting offers. Hopefully by this you will be convinced if Siteground is your next vehicle to start your website. Now in this A2 Hosting vs Siteground review let's take a look at some similarities of the two hosts.
=> Visit Siteground Official Website <=
The Similarities of A2 Hosting vs SiteGround?
I love both of these web hosting companies being that they both have very reliable fast servers and great uptime.
You should know also that both A2 Hosting and SiteGround give free site transfers. So if you are with any other host and you would like to migrate your website, then they will do it for you for free. Most other competitors charge for site migration such as Bluehost.
As for pricing on shared hosting you will notice that A2 Hosting Startup plan starts at $2.99/month while Siteground is $6.99/month. This is a significant difference in price, just a few pennies savings.
Both A2 Hosting and Siteground offer 30 money back guarantees along with 24/7 customer support.
You can also get a free SSL certificates & SSDs and with your domain. The good thing is that these host will install them for you so you don't have to. Some web hosting providers will require you to purchase a SSL certificate separately. However, when you consider A2 Hosting vs Siteground, they both will give it to you for free! These are great features to have especially if you will selling products on your website and collecting sensitive info such as credit card payments. The SSL certificates will encrypt the info to make protect customer info transferred through your website.
How Is The Customer Support of Siteground vs A2 Hosting?
You will be glad to know that both Siteground & A2 Hosting have amazing customer support that is extremely fast & knowledgeable for WordPress. As "non-EIG" companies this is something that definitely stands out with two competitors.
However, when you consider reputable websites like Trustpilot.com, you will notice how customers feel about their web hosting.
For example, with Siteground, they maintain an amazing 4.7 star rating with their customers based 7,654 Siteground reviews!
92% of customers say their web hosting is Excellent
1% say it is Great
1% say that it's Average/Poor while..
4% say it's Bad
However, with A2 Hosting they have 4-star rating on Trustpilot. You will notice that based on 1,064 A2 Hosting reviews customers give them:
79% for Excellent service
4% for Great service
1% for Average
2 is Poor
14% say the service is Bad
So when you look at these stats they do help to get a better picture of important aspects such as customer service, performance and web hosting services. By considering these, they will help you to see how your experience will be with the web hosting provider.
Trustpilot is just one of many reputable websites where you can find good customer feedback.
On the other hand, if you are really looking for the negative side of things with respects to A2 Hosting vs Siteground, then there are some other places to consider.
For example, although A2 Hosting is known primarily for its high turbo speeds & server performance, you will notice on other respected websites like ConsumerAffiairs.com they have 5 star rating there. However, on their BBB report A2 Hosting has an amazing A+ rating with great feedback based on their for customer support.
However, when you look at Siteground reviews left on Yelp, they have a 2-star rating based on some customer complaints.
Why do we share all of these references in this A2 Hosting vs Siteground review? The reason is simple. If you are looking for the positive, then you WILL find it. And also if you searching hard for the negative in something, then you will also find it as well.
The fact of the matter is this. Both web hosting services are great for customer support, but the reality is that we will all have a good or bad moment at some point, right? This is obviously not the exception for A2 Hosting or Siteground.
When you start creating a website online today, you may or may not experience any issues at all with your web hosting. But if you should, try to rate how customer support fixes your personal problem and not get blinded by what other people have experienced. I say this because I have been online for a very long time and know that some problems are not the web hosting provider's fault. Some people create problems themselves and when they don't get a resolution that they are looking for, then sometimes they complain.
So this A2 Hosting vs Siteground review is to help you to consider the big picture when looking at a company's customer support and complaints that you main read online.
Which Web Hosting Provider is Best To Create Your Website in 2021? A2 Hosting or Siteground? 
In this A2 Hosting vs Siteground review, we have looked at what both web hosting providers offer and also how each stands out. However, which web hosting should you start your website with today? A2 Hosting or Siteground?
Let's start off by saying that both are very competitively priced and super affordable with promo and introductory prices. If you are a beginner and would like to start a blog, website or eCommerce store, then both are really awesome host to use.
So, how can you decide between the 2? Who should you go with today? If price and unlimited features are most important to you, then we recommend getting started right now with A2 Hosting!
On the other hand, if you don't mind paying a few cents more for a strong, solid web host that has a long track record of performance, then you better go with Siteground all the way here at www.siteground.com.
The GrowBig plan allows you to create unlimited websites with tons of benefits for all of your blogging and website needs. However, if you care more about speed, then A2 Hosting's Turbo plan has all of this. All of the features under Turbo are unlimited and you don't have restrictions as with Siteground.
If A2 Hosting sounds like the better fit for you, then you should go to the official site right here www.a2hosting.com
A2 Hosting vs Siteground Review Conclusion
I want to thank you guys so much for reading this A2 Hosting vs Siteground review today. I know that it can be hard to select a good web host to create websites that you will be 100% happy so for this reason I wrote this review.
I realize as a blogger and entrepreneur that the most valuable asset to your online business is your web hosting. This is where it all starts. If you select the right one that has everything that you need, then you will be happy and thank yourself later.
I also realize that you work really hard for your money and don't want to waste it. This is another reason why I wrote this review today to help you make a good decision that you will be 100% happy with. I too was in your shoes at one point as a beginner and had to make a decision.
Hopefully this review of the benefits of using Siteground vs A2 Hosting has helped you a lot. If so, let me know below.
Tell me, which of the 2 web hosts are you more inclined to use to start creating your website today? A2 Hosting or Siteground? I would love to hear your comments on this review below..Get started today!