Are you searching for the best Godaddy alternatives for web hosting? Are you having problems with Godaddy and looking for something more reliable? Or perhaps you are fed up with their long customer support waits, costs & bad uptime? If you answered YES, then check out best Godaddy alternatives and competitors to migrate your website today!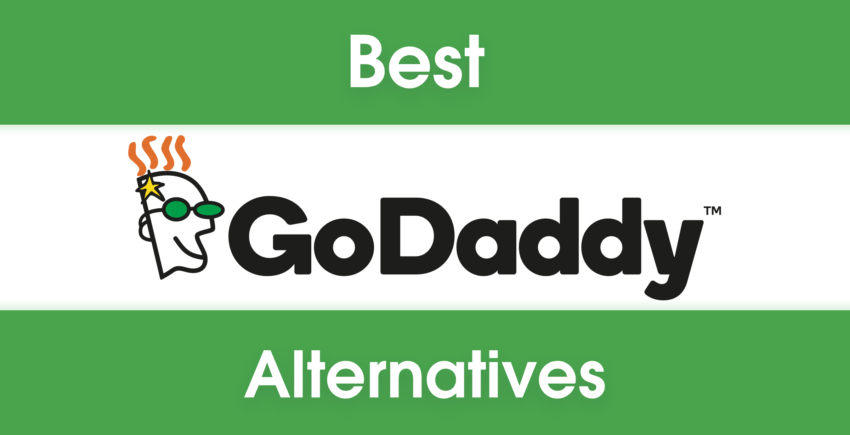 Disclaimer: This page contains affiliate links. When clicked and a purchase is made, the owner of this website will receive a modest referral commission. Thus doesn't affect your purchase at all. You get the best discount by clicking them and it also let's me eat my favorite peanut and jelly sandwiches. Thanks.
Although Godaddy is known globally for its domain sales and tv ads, it's not so hot for some with their web hosting services. This is obvious why MILLIONS of people just like YOU are looking for some reliable web hosting to create your website. If that wasn't the case, then you wouldn't be here right now on this blog reading to awesome blog to discover the best Godaddy alternatives, right?
What To Expect In This Review of Best Godaddy Alternatives for Web Hosting?
Today, I will share with you guys my personal recommendations of some other web hosting services that outperform Godaddy. After you review these comparisons below, then you will have more ideas of some better options for your needs. Hopefully, these competitors below will save you lots of money, time and frustration online.
Why Godaddy Alternatives?
When it comes to customer support, many customers have given them a 1-star rating on Trustpilot. Many on the site complain about increased costs of domains and domain privacy protection, unreliable web hosting, billing issues and long customer support responses.
You will also find many Godaddy reviews and complaints on sites like Complaints Board, Consumer Affairs, and Better Business Bureau. Also, I have seen other reviews where people even complaint about Godaddy stealing their domains! Even some reddit readers talk about this happening to them and say do not use Godaddy.
On March 15, 2022 Wordfence noticed an increase in malware sightings on Godaddy Managed Hosting. This is another incidence on top of last year's occurrence in November 2021 where a Godaddy data breach affected 1.2 million customer passwords. These data breaches affected Godaddy hosted websites which brands like Media Temple, tsoHost, 123Reg, Domain Factory, Heart Internet, and Host Europe Managed WordPress sites.
What problems or issues have you personally experienced with them? How long have you been using Godaddy web hosting? Why are you looking for alternatives to Godaddy today? Let us know below in the comments area. If are currently hosting your website now with Godaddy and would like to migrate it to another web hosting, keep reading to see the best Godaddy alternatives for web hosting.
The options below will have free site migrations if you want to move your website today.
My Experience Using Godaddy
I initially got started with Godaddy buying domain names. To date I have purchased over 30 domains on Godaddy. My goal was to create simple WordPress websites online for myself and others. However, I decided to make a change and leave them. Why? Increasing costs and customer support issues. Let me explain briefly.
To create any website online you need a domain name and a web hosting services.
Over the years the pricing of Godaddy domains and web hosting have increased substantially. Also, I noticed that customer support waits for tickets and phone are longer to respond. Is this your case or something else?
As a blogger and entrepreneur I am always looking for ways to save money and time online. I am sure that you would agree that you work really hard for your money and don't want to waste. If you are here looking for the best Godaddy alternatives for web hosting, then it means that you too have lost money and are not happy.
How Is Godaddy Hosting Pricing?
As you notice above in the graph, there are several different web hosting packages offered by Godaddy. Their web hosting starts at $5.99/month shooting up to $129.99/month. Overall, when you compare their web hosting with many of their competitors, Godaddy is more expensive and offer less resources.
If you want to create a website using WordPress, below you find some of the best WordPress hosting services to use. All of these providers have faster sever performance, better page loads, security and faster customer support than Godaddy.
Initially when I searched online for Godaddy alternatives, there were literally THOUSANDS of results as you can imagine! But of all of those I will reveal which ones have actually performed very well for my blogs online.
There are 5 shared hosting for WordPress that I really stand behind for beginners who want to divorce Godaddy today:
Cheaper Godaddy Alternatives to Create Websites:
Before we really dig into all of the features, specs, and pricing of the best Godaddy alternatives for web hosting, I think that it is very important to find something you will be happy with. You deserve better. Why?
Because when you have web hosting that's not reliable, then this hurts your name & brand when people search online for you. Some beginners online may not realize that if a web hosting provider has bad uptime performance, it means potential customers can't find you online. If this happens, then your online business loses money. Also, web hosting with bad uptime performance affects your SEO rankings and page views.
For this reason, I think that you will appreciate how important it is to have FAST 24/7 customer support, great security, awesome uptime, unlimited resources & great performance.
One awesome thing about Siteground is that it is based in Europe with several data centers globally. They are known primarily for their fast page loads, security and technology. When it comes to technology, their Solid State Drives provide a 1000x increase in imput/output operations as compared to other drives.
Also, with their own Supercacher & CDN, they perform way faster with speed than Godaddy. I currently use the Growbig hosting plan to host 12 websites that I created. Due to their great WordPress performance and speed, they come highly recommended by WordPress.org.
If you want to divorce Godaddy right now, then Siteground offers FREE site migrations to transfer your site. They have their very own plugin that does all of the work for you. Siteground has a 5–star rating on Trustpilot for excellent customer support.
They offer a 30 day money back guarantee.
You can use the link below to signup for Siteground & get up to 70% OFF.
Click this Special Link Here to Signup for Siteground NOW!
A2 Hosting is another awesome web hosting provider starting at only $2.99/month that is FASTER than Godaddy web hosting. They are known primarily for their 20X FASTER turbo speeds which are due to their SSDs. These perform up to 300% faster than Godaddy.
When I first started with A2 Hosting, I started off using their Startup hosting plan. Being that I loved it so much I decided to upgrade to A2 Hosting Drive plan. This plan is probably best for bloggers and affiliate marketing.
If you want to divorce Godaddy right now, then A2 Hosting also offers a FREE site migration service to transfer your site to their platform. They have their very own plugin that does the work for you. They have an ANYTIME money back guarantee which extends beyond 30 day refund policies. Also, they have great reputation with fast 24/7 customer support.
You can use the link below to signup for A2 Hosting & get up to 66% OFF.
Click this Special Link Here to Signup for A2 Hosting NOW!
If you are concerned about the environment and would like to ECO-friendly, then GreenGeeks is the best Godaddy alternatives for web hosting. Their web hosting is pretty cheap starting at only $2.95/month in comparison to $5.99/mth at Godaddy.
GreenGeeks has amazing 24/7 customer support with a 4.7 star rating out of 5 on Trustpilot. They also their very Supercacher and CDNs for faster speeds and page loads. Their uptime is also rock solid and super reliable. You will also get today a FREE Domain and  SSL certificates which are great for selling products and services online. They have a 30 day money back guarantee and you can get up to 60% OFF today on GreenGeeks.
Click this Special Link to Signup with GreekGeeks NOW!
Hostinger is probably the cheapest alternative to Godaddy that you will find barnone. They web hosting starts at only 0.99/month! YES, you read that right. Only 99 cents per month for web hosting. This makes it super duper easy for anybody with a pulse to get started only no matter your budget.
As you can see above with the graph, their web hosting is way cheaper than Godaddy with web hosting ranging from only 0.99 per month to $7.45/month. They are great for beginners online wanting to creating 1 website or even unlimited websites online for multiple projects. They have a excellent reputation with fast 24/7 customer support also. When you get started today, you can a FREE domain & SSL certificate. Hostinger offers a 30 day money back guarantee.
Today you can get up to 90% OFF Hostinger!
Click This Special Hostinger Link Here Right NOW!
Another great cheaper alternative to Godaddy to create a website is Bluehost.
Bluehost has been around 20 years and is known for its performance by WordPress. They have web hosting plans that start at $7.99/month for the Basic hosting plan. However, sometimes they run deals that are lowered down to only $2.95/month!
Something that you will notice is that you will be able to create multiples websites on Bluehost with their Plus Hosting and Pro Managed Hosting. It also comes with a domain name and domain privacy protection for FREE. If you need even more resources, their Managed WordPress Pro hosting might be what you need.
To get the best discount, you can visit now their official website here.
Fully Managed Hosting Alternatives to Godaddy
If you are ready to host with the big leagues and want to graduate from shared hosting, then check out the best Godaddy alternatives for web hosting that fully managed.
The great benefit of using managed hosting versus shared hosting is that you will have faster page loads, faster customer support, automatic updates and better security. With these, you will be able to focus more on your business and save more of your precious time.
Below are 6 best Godaddy alternatives for Managed WordPress hosting:
Kinsta is an amazing Premium managed WordPress hosting provider that is super fast since 2013. They have cutting-edge technology and really take customer support seriously. They offer:
Fully managed services
Free site migrations/site transfers
Ultimate speeds
Super Fast Page Loads
Daily site backups
Google Cloud Platform
22 data centers
Secure like Fort Knox
Amazing Uptime Server Performance
30 day Money Back Guarantee
Free SSL's/CDNs
Great for nginx to process high volumes of web traffic

2 Months FREE!

(if paid yearly)
Some Big Brands That Trust Kinsta WordPress Hosting:
Tripadvisor
Intuit
Buffer
FreshBooks
ASOS
Drift
You?
Kinsta Hosting Plans:
There are several managed WordPress hosting plans to choose from for all traffic types. Their plans can handle websites receiving 25,000 up to 1,500,000 monthly visitors starting at only $25/month! It's an awesome grab for managed WordPress hosting packed with tons of value. They are really designed to handle big websites that receive droves of website traffic each month.
If you are looking for super fast speeds, top notch security and uptime performance, then this is the best Godaddy alternative and #1 recommendation to create managed WordPress websites.
Rocket Managed Hosting is a another awesome alternative to Godaddy. They have very fast turbo servers and specialize also in managed WordPress hosting.
Similar to Kinsta, Rocket Hosting is really big on website security. Website security is extremely important to protect from hackers, malware and spam.
Kinsta has a guarantee that if you website is hacked, then they will fix it for FREE! This is something that I really LOVE because if your website is hacked online, most people have to pay someone like a developer to remove it. This could cost you hundreds or even THOUSANDS of dollars! Thankfully Rocket Hosting does all of this for you if you host your website with them.
They have WordPress hosting plans that allow you to create multiple websites starting at only $25/month. Get started for only $1 below!
Benefits:
Unlimited FREE SSL Certificates
Malware Scan & Removal
30 day money guarantee
Daily Backups
Free Site Migrations/transfers
24/7/365 Fast Customer Support
FREE SSD
FREE CDN (for faster speeds & page loads)
Amazing Uptime Server Performance
1-Click WordPress Installations
Pricing: only $27.50 per website.
FREE Trial [No Credit Card Needed]
Fully Managed Platform
Automatic Updates
Built on Google Cloud with 26 data centers
Malware Scans
SSH Access
Unlimited WordPress Site Edits
SSL Certificates
FREE Website Migration
Secure Servers
Hack Protection
Up to 99.99% Uptime Performance
Fast US Based Customer Support
Guaranteed Page Performance with 90+ Google Pagespeed Insights
Javapipe is another one of the best Godaddy alternatives for web hosting. Their focus is more on Java hosting on Tomcat for developers. However, they also have awesome WordPress hosting, PHP hosting, and VPS hosting.
Although they are a small company, they have been around since 2001 and are known mostly for their great customer support, security & DDos protection.
With Javapipe you will have the ability to create 1 website or multiple websites depending on your needs. With web hosting starting at as little as $5.40/month you get tons of resources to build your websites online.
Benefits:
GuardPanel Control Panel
Web Application Firewall
Technology HTTP Reverse Proxy
IP Address Forwarding
Remote DDos Migrations & Protection
SSL certificates
99.95% SLA uptime guarantee
30 day money back guarantee
Cloudways is another awesome alternative to Godaddy that offers a FREE Trial on their managed WordPress hosting. The only difference is that their cheap tier is only $10/month versus Godaddy VPS hosting at $24.99/month.
Cloudways has 60 data centers globally and allow you to select between 5 servers to build your website: AWS, DigitalOcean, Google Cloud, Vult, Linode, Vultr. This provides you more flexibility from ground up with your server, versus having all of your resources & data centers selected for you with Godaddy. They also have great customer support and page loads.
Accuwebhosting is another awesome alternative to Godaddy that offers some really great VPS hosting. Accuweb VPS Hosting is only $7.99/month versus Godaddy VPS hosting at $24.99/month.
They have 16 data centers globally and allow you can create unlimited websites with any VPS plan: They give the option to select any web server such as Apache, Nginx, or LiteSpeed.. You can use cPanel, Plesk, and DirectAdmin platforms to managed your websites online. Accuweb offers dedicated IP addresses and full root access via SSH. They also have way better customer support and page loads than Godaddy.
Best Godaddy Alternatives for Web Hosting Conclusion
If you have been hosting with Godaddy web hosting for quite some time and are ready for a change today, then it's time for you to make a move right now!
There are literally THOUSANDS of web hosting providers online that can be used to create and manage your website online. Although Godaddy is popular and does a lot of marketing online, this doesn't mean that they are for you. If you stay with web hosting provider that you don't like, then you continue to be unhappy as you are right now. There is no need for that especially if you are spending your hard earned money and not getting the results that you deserve with your business online.
Remember, then your website experiences lots of downtime and your visitors can't find you ,then you are losing money and credibility. And if you are experiencing these types of problems and more and can't get them resolved, then this is a big problem.
The web hosting providers that I have recommended above to you today are services that I can stand behind. Which one of our 11 best Godaddy alternatives for web hosting will you get started with today? Let me know in the comments below.
In the meanwhile, I hope that you guys have much success online in your endeavors of creating your websites. Also, I hope that you have much success in 2022 and beyond!