Do you want to know where to find the best shared web hosting with cPanel and unlimited bandwidth for 2022? Are you looking for unlimited web hosting that is reliable? If so, then keep reading! When it comes to getting web hosting online, shared web hosting is the best way to go for beginners. Why? Well for starters, it't super cheap and typically provides all of the resources that you will need.
So if you want to start a blog, website or eCommerce to make money from home, shared web hosting is the way to go to save the most money for your business. As a blogger, I have tried & tested several web hosting providers over the years. Today you will see the ones that I recommend using for beginners.
Most web hosting, if not all use some form of a cPanel. No matter which cPanel hosting provider you currently use, it will allow you to easily migrate your website and data to a new platform. Why should you know this? Because if you are not happy with your current shared web hosting provider, then it times to make a change. If you are tired of being overcharged for bandwidth and web traffic overages, then you should checkout these following shared web hosting services.
All of  these use cPanel dashboards and will allow you access to site migrations & several tools to better manage your website.
4 Best Shared Web Hosting with cPanel and Unlimited Bandwidth
1. BLUEHOST
Bluehost is our #1 recommended best web hosting for beginners to create websites. Why? They are not only recommended by WordPress.org for high performance, but also they are very affordable. They have cpanel and unlimited bandwidth that make it great to manage your blog or website's traffic. There are 3 hosting plans that can be used to create sites: Basic, Plus and Choice Plus.
As you could see the graph, there are 3 shared web hosting plans to use for creating websites:
The Bluehost Basic hosting plan is only $2.95/month and ideally best for beginners online.
The Plus and Choice Plus hosting plans have introductory pricing that both start at only $5.95 per month. The real difference is that the Choice Plus gives you things like Domain Privacy, Automatic backups, and Spam Guard to protect your website. 
Overall, Bluehost is known for:
Free domain
Unlimited bandwidth and storage
Highly recommended by WordPress.org
Free website builders in cPanel
Free CDNs for fast page loads & performance
$200 in Google & Bing ads credits [pay-per-click marketing]
99.9% uptime performance
30 day money back guarantee
The shared web hosting with cPanel and unlimited bandwidth are the Plus and Plus Choice packages. To start your website with 60% OFF Bluehost web hosting, click this special link here now!
2. A2 HOSTING
A2 Hosting is another shared web hosting with cPanel and unlimited bandwidth that is primarily known for its turbo speeds. A2 Hosting also offers 4 shared web hosting for creating websites online: Startup, Drive and Turbo Boost, and Turbo Max.
The Starter hosting plan is the cheapest shared hosting plan that A2 hosting offers which allows beginners to make 1 website online. Starting at only $2.99 per month you will get unlimited bandwidth, unlimited transfers and SSD disk space.
The Drive hosting plan is the most popular and is on sale for only $2.99 per month. This shared web hosting is awesome it allows you create unlimited websites and add multiple domains in cPanel. You also get unlimited bandwidth and transfers. This web hosting has unlimited storage also.
Turbo, which is the 3rd tier of A2 Hosting gives you unlimited everything, however the difference are the 20 times turbo speeds on servers. You can get started with the Turbo plan for a discounted $9.99 per month. The cool thing that I also LOVE about A2 Hosting that's great is that they give FREE SSL certificates. These are perfect especially if you would like to create an eCommerce store or sell products. These will encrypt your websites and them safe online when you customers visit.
I did a A2 WordPress Tutorial some time ago that shows beginners how to create a WordPress website. 
This is the cpanel for A2 Hosting:
Overall, A2 Hosting is known for:
FREE HackScan and malware removal
Their A2 optimized Website builder & plugins
FREE SSD & SSL certifcates
Caching
20 times FASTER SPEEDS and server performance
FREE Site Transfers
99.99% Uptime 
30 day money back guarantee
To start your website with 66% OFF A2 Hosting, click this special link here now!
3. HOSTINGER
Hostinger is another awesome shared web hosting with cPanel and unlimited bandwidth that has over 40 million users worldwide. In fact this very blog along with 12 others online that I have created use Hostinger WordPress hosting. Hostinger offers 3 shared web hosting plans: Single, Business, and Premium. There is Cloud hosting services also.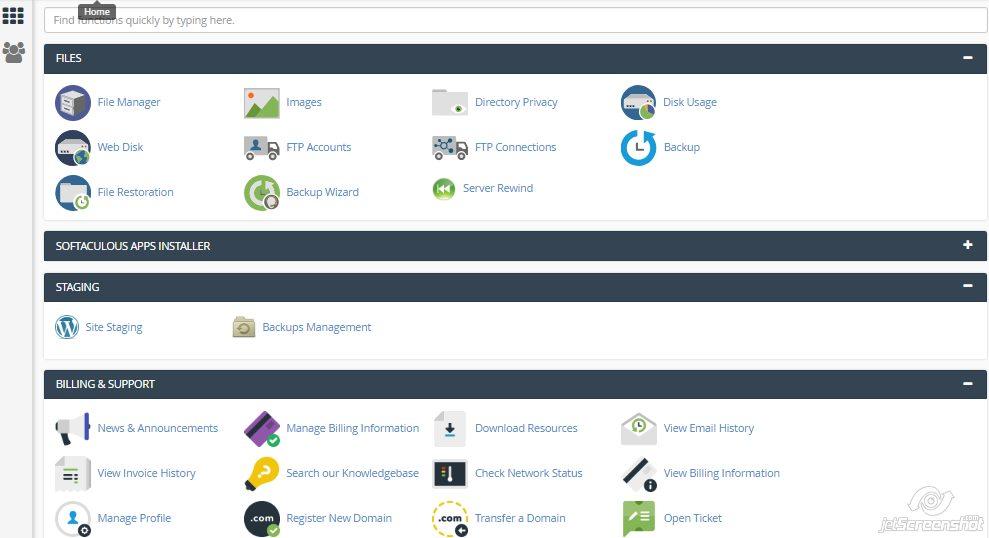 This website Learnanet is hosted on Hostinger's platform. I started this WordPress blog about 4 years ago and I have been using their Business Shared hosting plan. I love this plan not only for all of the unlimited features, but also for the great performance on servers. Of course if you are looking for a way to create multiple websites online for affiliate marketing, you can do this with the 2nd tier Premium hosting plan. The only huge difference is that you FREE SSL certificates, daily backups and 4 times FASTER performance.
Overall, Hostinger is known for:
Free domain on Premium & Business plans
SSL certificates
SSH Access
Daily Website Backups for Security
Unlimited Bandwidth & Databases
Unlimited Email Accounts
Free Site Migrations
Trustpilot Score of 4.5 out of 5
99.9% Uptime Performance
30 day money back guarantee
4. Dreamhost
Dreamhost is the 4th shared web hosting with cpanel that offers unlimited web hosting. They have been around for a very long time and have a great reputation online. They also offer VPS, Dedicated, WordPress hosting with great speeds and performance.
I really like their cPanel and website building tools also and wanted to include them today on this list of the best shared web hosting with cPanel with unlimited bandwidth. 
Dreamhost Hosting is known for: 
Free Domain
Only $2.59/month
Automatic Backups of Websites
Get SSL Certificates for FREE
Google Apps Intergration
Automatic Data Backups
Unlimited Transfers & Bandwidth
Site Migrations
100% Uptime Guarantee
Trustpilot Score of 4.6 out of 5
97 Day Money Back Guarantee
To start your website right now with up to Dreamhost Hosting, click this special link here now!
Is Unlimited Web Hosting Necessary?
Nobody likes restrictions, right? Nobody wants to be told what they can or can't do. With many shared web hosting with cpanel there are restrictions of users.
For example, some web hosting services may have unlimited bandwidth, but have restrictions in other areas. These are nice sometimes and ideal perhaps for beginners. However, over time your website WILL grow as you pump out more content and as a result your web hosting needs WILL change. At this point you will need to put on some new digital underwear and make a change!
This is why many small business owners and entrepreneurs like YOU require more resources. Getting an unlimited web hosting service just makes sense & will give you all the resources you need. You will be able to create unlimited websites by adding multiple domains.
This is why I wanted to give you a list of the best shared web hosting with cPanel and unlimited bandwidth. This way you can know which web hosting providers have the best performance online to create your website.
What Is The Cheapest Shared Web Hosting with cPanel?
The cheapest shared web hosting provider that you can use to get your website online is Hostinger. As you can see their Single shared web hosting plan is only $0.99/month.
Why is Hostinger so cheap?
I think that Hostinger gives beginners with a tight budget an easy way to get online. The Single shared hosting plan is simple and allows you to build just 1 website online with some resources. However, their Premium and Business allow you to create unlimited websites for your business with unlimited bandwidth.
But I recommend that you are doing affiliate marketing, network marketing, then go with the Premium or Business hosting plan. 
To start your website with up to 90% OFF Hostinger, click this special link here now!
Conclusion
I know that it can be hard to find the right unlimited web hosting service with literally thousands of them online. I have created several websites and blogs online over the years so I completely understand what's necessary to get a job done.  You need a reliable provider with great performance and uptime to be able to sell your products and make money online. 
As a blogger, I recognize that having an affordable web hosting provider that is dependable especially when your customers are searching for you in the search engines is a MUST have.
So today, I have given you the best shared web hosting with cpanel and unlimited bandwidth that I found online. I personally deal with each of these web hosting providers above and love all of their tools and customer support. 
So what's the next step? Think of which of these unlimited web hosting providers above will you use today to create your website? Let me know by commenting below.
Thanks for reading this review today! I hope that you have much success in your endeavors of creating your website and your business!