Cloudways hosting is a cloud hosting known primarily for their lightning fast hosting for websites. But is Cloudways worth it or not? Is it really the best managed cloud platform for WordPress, eCommerce, bloggers and agencies or just hype? This Cloudways Managed WordPress hosting Review will reveal some things you should know FIRST before buying Cloudways managed cloud hosting. If you don't read this FIRST, then you will smack yourself later!
I have been online for several years and during this period I have seen many providers that offer either cloud or managed WordPress hosting. Some well-known platforms are Devrim, Kinsta, Liquid Web, Nestify, KnownHost, Flywheel, Pressidium, BionicWP and even Rocket Hosting.
If you went with any of these competitors you would notice that just like Cloudways they would have something "cloud-based" and "managed WordPress platform" to create and build your websites. Keep reading this review to discover how they stand out from the competition. 
Disclaimer: This page contains affiliate links. When used, learnanet receives a modest commission for referrals. This doesn't affect your costs at all. It actually gives you the best discount available on Cloudways hosting services and allows me to eat my peanut butter and jelly sandwiches.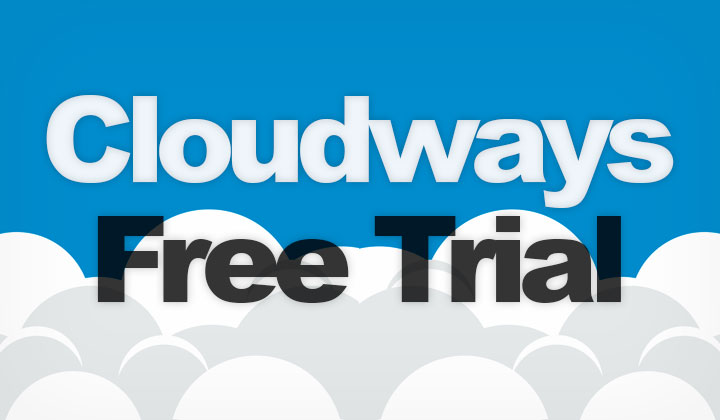 What To Expect in This Cloudways Managed WordPress Hosting Review
Thousands of bloggers and entrepreneurs just like YOU are searching online for ways to create websites with the best value. As I mentioned on the onset in this Cloudways review we will be talking all about the company behind the name, their reputation with current and past users, customer support, and uptime. Basically everything you MUST know before to make a GOOD business decision.
My viewers appreciate honesty and that's what you will get today in this review Cloudways . This is something unique with ALL of the web hosting services that I have reviewed. With this said I will go over some alternatives in the same ballpark. If you have any questions or thoughts, feel free to drop them below in our comments area.
Who Is Cloudways Anyways?
Cloudways at www.cloudways.com is a managed cloud hosting platform that revolutionalizes the way entrepreneurs create and maintain WordPress websites. As you may know, WordPress powers over 30% of websites online so it's the best platform for you to make your website. Cloudways is known not only for its amazing platform, but primarily for their blazing fast speeds, page loads and performance on their servers. Although based in Malta, they have 60 data centers globally and allow users to select which server provider they would like to use for hosting their websites online. They have more data centers than any other web hosting provider on the planet! 
Check out this really nice honest Cloudways review video below to learn about their managed cloud hosting services and who I feel they are best for!
What Is Unique About Cloudways?
Launch Multiple Apps in 1-Click. (WordPress, WooCommerce, Magento)
Unlimited apps on a server
5 top-notch cloud providers (AWS, Google Cloud, DigitalOcean, Linode & Vultr) in a 1- click
Free SSL certificates.
Built-in Cloudways CDN which are super important per gtmetrix
High-performance stack for WordPress, Wocommerce & Magento
Pay-as-You-Go Pricing model.
Built-in Free Cache Plugins for WordPress & Magento
1-Click Operations (server launch, server/app cloning, monitoring, and many more)
Dev friendly Staging Environment
Managed security and backups.
Effective Team Collaboration features
Easy Github automation for developers
Flexibility to Scale Servers
Transfer servers and billing to your clients in simple clicks
How is Cloudways Customer Support?
As part of this Cloudways Managed WordPress Hosting Review, I wanted to share with you what others think about their cloud hosting.
One good neutral place of many is Trustpilot. When you checkout Cloudway's profile at Trustpilot, you will see that they have a excellent rating by users.
With the graph above, you will see that they have a 4.8 rating out of 5 which is a pretty high score. Based on these Cloudways reviews:
90% of Cloudways hosting users said that they were Excellent
3% said that they are

Great

<1% of users feel that Cloudways is Average
<1% reported that they have a Poor hosting service while..
6% said that it was

Bad
Why do I share these ratings with you? Because I am honest and I want you to know the good and the bad. This is something that many bloggers, affiliate marketing and others DON'T want you to know. They just care about making a sale or commission, but don't want you to consider the BIG picture. And for this reason, they leave out important details in their Cloudways reviews that actually might help you make a better decision. Learnanet.com is different.
Another reason why I share this stats with in this Cloudways managed WordPress hosting review is because you should know that EVERY web hosting provider online, be it shared or managed will have happy customers and others who don't like them. When you recognize this pure fact about web hosting, it really brings the bar down just a little to help you to realize that NO web hosting service on this planet is perfect.
You can gleam from this review that Cloudways will obviously excel in many areas and surpass your expectations, while fall short in other areas. This to be expected with ANY web hosting service out there no matter what you pay for it.
However, I think that Cloudways hosting is awesome platform to build a website on if you care more about speed and performance. Per my research and use of the dashboard and platform, fast performance seems to be Cloudways main focus and they sure do deliver.
However, although Cloudways is a great managed cloud hosting provider, there are many Cloudways alternatives that compete in the same playing field. Let's talk about a few of them and see how superior or inferior they are in comparison to Cloudways managed cloud hosting.
Best Cloudways Alternatives & Competitors
In the beginning of the Cloudways managed WordPress hosting review, I mentioned a few of many competitors of Cloudways that also provide some form of cloud hosting or managed WordPress hosting. However, how do they compare with what Cloudways offers clients?
When we look at the cheapest plans that others offer on their 1st tier, do they offer more benefits and features? To make sure that this review is honest and unbiased, I wanted to share with you what some other competitors charge for the same services that Cloudways providers. Hopefully this will help you to see the true value that Cloudways provides and also how to get the most resources for your buck.
You will notice in the graph below that the cheapest cloud hosting package that Cloudways offers is called DigitalOcean. It is only $10/month. However, you can see what others charge below.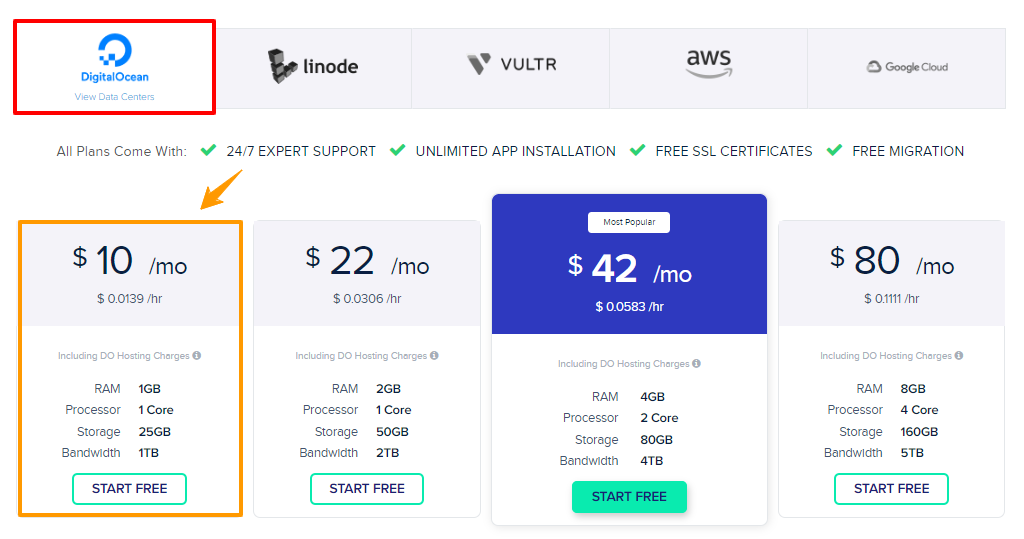 As you can see about with this brief comparison, only A2 Hosting is cheapest Cloudways alternative mentioned above. It is even $5 bucks cheaper than Cloudways Digital Ocean. However, I want to admit that Cloudways managed cloud hosting has way faster server speeds, more data centers, faster customer support, and a better platform.
But again, I show this comparison in this Cloudways review to let you know what other providers offer price-wise. This way you can have the bigger picture to determine which web hosting provider is best for you and your business needs.
But I must say that although all of the competitors mentioned are super reliable and have awesome customer support, they don't offer a "Pay As You Go" feature for clients. All require you to pay upfront typically a year of web hosting upfront. Also, what is also unique is the Cloudsways Free Trial offer that nobody else does.
Cloudways Managed WordPress Hosting Review – Cloudways FREE trial?
One of the things that I really love about the Cloudways FREE Trial as mentioned in the video is that no other web hosting provider does this. Again, most web hosting services if not ALL make you pay for your entire year or term upfront. Cloudways lets you tryout their cloud hosting platform for free without having to give a credit or debit card. This allows you to see under the hood and create a WordPress website in a staging environment FIRST BEFORE upgrading and actually buying your desired hosting package.
Also, I LOVE that you can also pay as you go. This feature is an awesome idea in itself being that people today don't want to feel obligated or tied down to something for a long time. It's super flexible for anyone anywhere who wants to get started online fast. In fact, the cheapest cloud hosting plan that they have starts at only $10/month.
With this pay-as-you go feature you only pay for what you use and actually want. You will receive monthly invoices and it even breaks it down to the hour which is pretty cool. This means that you can quit at any time and only be charged for your used down to hour. I really like this and feel it is a great push to at least try it out. You have nothing to lose. This is truly the real and legit way to get started online with web hosting for today's users. I wish all web hosting services got on this wave and offer FREE Trials to users.
The interface is really nice and you will be able to select your preferred server to build your website on as well as your data center and use staging. [NOTE: There are 60 data centers and 5 servers: Amazon Web Services, Google Cloud, Linode, Vultr and Digital Ocean]
Want are waiting for? If you are a blogger, developer, agency or someone who is ready to finally graduate from slow shared web hosting to fast managed hosting, then you should get started right now with Cloudways hosting!
Again you have NOTHING to lose and you don't even have to enter a credit card to try it out now. You start creating a website in a staging environment and when you are ready, go live!
Get your website started right now by clicking the button below and starting your FREE TRIAL!
Now let's turn it over to you..What do you think about this Cloudways Managed WordPress Hosting review today? What kind of website do you want to create and which Cloudways hosting plan do you think will be best for you? Let me below in the comments guys. I would love to hear your thoughts. And as always I hope you all much success in your endeavors of making money online with your new Cloudways website today:)