If you googled looking for a CoolHandle web hosting review 2021 and made it here to this blog then it means that you are curious about using CoolHandle to create your website.
Millions of people just like YOU search everyday start businesses and want to create website. The question is, how reliable is Coolhandle? Are they the best web hosting provider for your business? Keep reading this CoolHandle web hosting review to see what I discovered!
Disclaimer: This page contains affiliate links. If a purchase is made, I may receive a referral. This doesn't affect your costs, rather gives you a deep discount today. Also, it lets me make my favorite peanut butter and jelly sandwiches:)

What to Expect In This CoolHandle Web Hosting Review 2021
Before you signup with CoolHandle today, this review will reveal both the good and bad that I feel you MUST know BEFORE spending your money! You will thank me later:)
You will learn all about the benefits of using CoolHandle and how is it that they compare with their competitors online. Recently, I decided to get an account with them and checkout their pricing, uptime performance and customer support. These 3 areas are extremely important to me as a blogger and wanted to share with you today what I think in this CoolHandle review.
The Pricing of CoolHandle Hosting:
There are really 3 web hosting plans that CoolHandle offers you to create websites: Starter, Business & Pro. I will go them briefly and then let help you to see which one will be best for your business needs today.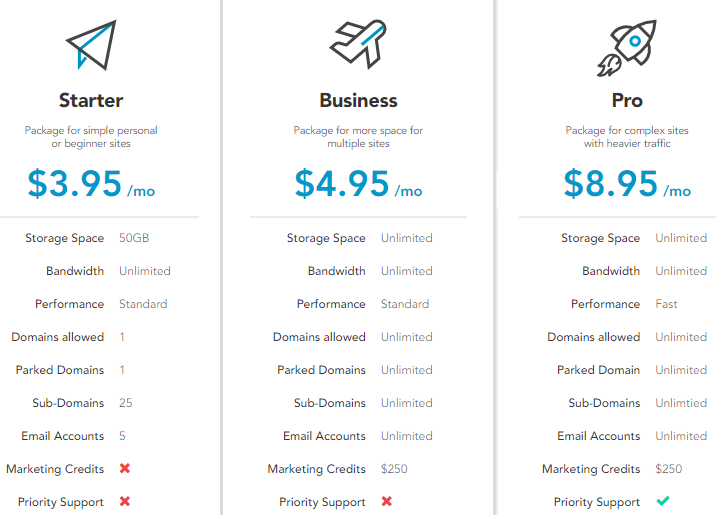 Starter hosting plan is the cheapest and starts at only $3.95/month. The Starter plan is probably best for newbies online wanting to create their very 1st website or blog. It allows you to create just 1 website online which is great to start out online.
What do I LOVE about the Coolhandle Starter hosting Plan? 
In the past 10 years I have been able to create tons of websites online and something that I have noticed with many beginner web hosting packages for providers is that they only give you 10 GB of web space. While 10 GB of web space for a website is not terribly bad, Coolhandle hosting gives you 50 GB of storage space!
Also I love that they give you 5 email accounts that you can create along with "UNLIMITED BANDWIDTH". Some web hosting providers will cap you off and have restrictions, but it's unlimited with Coolhandle which is COOL!
What I don't love about the CoolHandle Starter plan? 
As a beginner or newbie using this plan you will not get any marketing credits or priority support. This is not a real game changer in my opinion. But I do think it's important to have the marketing credits. This way you can use it towards PPC Marketing to drive targeted traffic FAST to your new Coolhandle website. But if you get this plan, there are other ways to drive FREE web traffic to your new website. If you would like to learn about some that I recommend for beginners, drop me a comment below.
Coolhandle's Business hosting plan is $4.95/month and is their most popular package and also the one that I recommend. I will tell you why shortly.  With it you will get:
Unlimited storage space
Can create unlimited websites
Unlimited bandwidth
Can Unlimited email accounts
Can create unlimited sub-domains
What do I LOVE about CoolHandle Business Hosting?
First off, unlike the Starter plan EVERYTHING is unlimited! Also, you get $250 in marketing credits that you can use to promote & drive your websites online fast. This is an awesome value that makes it worth every penny!
I say this not only for all of the "unlimited features", but also for the fact that when you start a business it can be hard to get the word out if you don't have the resources as a beginner. You can use this $250 credit towards pay-per-click marketing on Google which will help you to drive targeted visitors fast that get you sales on your website!
What I don't love about CoolHandle Business Hosting? 
There is only 1 thing that you don't get just as with the Starter plan, Priority Support. But in general, I think that their customer support is super fast even with the Business hosting. But again, you should know this.
The Professional Web Hosting is only $8.95/month and has Unlimited resource across the board with the fastest performance & Priority Support! The Pro plan is designed for websites that have higher volumes of web traffic.
How to Save The Most With CoolHandle?
When it comes to buying domains and web hosting, I always recommend buying more web hosting upfront to save money on both the front and back-end. What do I mean by this? Every web hosting service on the planet has a super discounted introductory price and the regular price when the plan renews.
For example, to get the Starter hosting plan to create your website, it normally costs as much as $20.95/month. However, if you get started with them, then you can up to 81% OFF CoolHandle web hosting at only $3.95/month! This is a HUGE monthly savings to you today and for this reason I wrote this Coolhandle hosting review.
However, the true reality is that when your term ends, then it will renew at $20.95/mth. So what do I recommend that you do to save the most for your business? I suggest that you buy 36 months of web hosting. Believe me, you will thank me later!
Example of Costs for Terms on Starter Plan: 
6 months for  $7.95 per month
12 months for $5.95 for month
24 months for $4.95 per month
36 months for $3.95 per month [BEST Value]
How Is CoolHandle Customer Service?
When it comes to customer support is really important to have a web hosting provider who responds FAST and knows how to fix problems. Today, I contacted Coolhandle customer service and was really impressed how fast my rep Beverly answered my questions.
The truth is that I don't really consider myself a guru nor an expert with Coolhandle. But it's also true that you don't have to be the expert at everything, You just need to know who to when you do need one. It's really cool to know that I can chat or call a specialist 24/7 and always get through.
What's pretty nice also that I wanted to mention in this Coolhandle web hosting review 2021 is that Coolhandle has a B rating with the BBB.
[Click here to see their report as it will open in another tab for you. There you find a lot of positive Coolhandle reviews].
Benefits of Using CoolHandle Web Hosting
There are many benefits of using Coolhandle hosting to create a website for your business. They are very competitively price with more than enough resources when compared to many of their competitors. When you look what you are getting on each of the 3-tiers, you are getting far more value than others like WP Engine, Bluehost, Siteground, A2 Hosting, and Hostpapa just to name a few.
Which Coolhandle web hosting is best for you to create your website today? The purpose of this Coolhandle hosting review is not to tell what to do.
Although I personally prefer their Business hosting plan, you may differ. Why do I say this? If you are beginner and newbie online and this will be your 1st website, I highly recommend you buy the Starter hosting plan here.
However, if you are a blogger with a need to create multiple or unlimited websites, then I think it's best to go with the Business or Pro plans. These in my opinion are better and ideally for affiliate marketing, network marketing, developers and people who need more resources under one account. The great thing is that all of Coolhandle web hosting plans have great uptime guarantee performance of 99.999% and better!
I have been online for several years and been able to create multiple WordPress websites online. So for me, the Business plan is ideal for what I need and allows me to reach my goals. How about you? Which hosting plan do you think is best for your online business? Let me know in the comments area below!
Get started creating your website now!
CoolHandle Refund Policy
Coolhandle web hosting service offers a 30 day money back guarantee on their packages. This is quite standard in this industry and right in line with others. You can simply get in contact with their customer support at 866-200-2828 to request refunds.
CoolHandle Complaints
I want to be 100% honest in this CoolHandle web hosting review 2021 and give you the GOOD and the BAD that you deserve to know. Why? You work hard for your money and should know all about any oil leaks in a car before buying it from a car lot.
Many web hosting reviews online don't inform readers of both sides of the coin. They only paint the good to get you to buy a product or service. That's not the case with learnanet.com.
You should know that EVERY web hosting provider online has complaints or things that clients don't and Coolhandle is NOT the exception.
For example, if you are searching online you will see a few Coolhandle complaints on reputable websites like RipOffReport. Some have complained about billing issues and losing site data on servers. In my opinion, I think people lose data when they don't pay for their web hosting. But again, that's my opinion. I mean think, who lives in an apartment without paying rent?
Why do I share this with you on my Coolhandle web hosting review 2021? For 2 simple reasons:
One, ALL of my web hosting reviews are 100% honest giving you both the good and the bad.
Second, I highly value your trust and know that you don't want to waste your time or money on something that may or may not work for you. If you like and appreciate honesty and don't come past it everyday, then let me know below in the comments area. I would love to hear your feedback.
What About CoolHandle Competitors?
There are many competitors of Coolhandle that might give them a run for their money.
For example, if you are looking at cheap deals on web hosting Hostinger WordPress hosting here starts at only 0.90 per month to host 1 website! In fact, I am using Hostinger right now on this very learnanet.com website + 12 others! I have been using them for about 4 years and love them. They are cheaper than Coolhandle web hosting and are great for beginners online.
Mochahost is only $1.95 per month!
Dreamhost is $2.59 per month.
Namecheap web hosting is only $2.88 per month.
When it comes to money back guarantees, Inmotion hosting offer a 90 day money guarantee. For more info, checkout this Inmotion hosting review here.
Dreamhost mentioned above offers a 97 day refund policy. For more info, go right here to Dreamhost.com!
Mochahost which is only $1.95/mth beats them all with an amazing 180 day money back guarantee!

CoolHandle Web Hosting  Review 2021 Conclusion
I know that you clicked through my website to read an honest CoolHandle review. So I have worked really hard to put this information together today to save you both some time and frustration.
As a blogger and entrepreneur, I understand how hard it is to find a reliable web hosting to create websites online. So today you got my honest take on Coolhandle web hosting services and what I really think about them. I want you to realize that frankly with EVERY web hosting provider you will find something that you like or don't about what they do. But when you look at the BIG picture, is Coolhandle really reliable and good for your online business? I think so and recommend using them to create your website today. But don't take my word for it.
The purpose of this Coolhandle web hosting review 2021 is not to CONVINCE you about their web hosting. It's only to inform you about what's available to you and their true value. Now that you have all of the info that you need to get started, which Coolhandle web hosting plan do you think will be best for you? What are your personal thoughts of this Coolhandle review?
I hope you guys much success in your business online!