If you are reading this GreekGeeks WordPress hosting review it means that you want to create a WordPress website using GreenGeeks WordPress hosting, but not sure if it's for you? There are many WordPress hosting services out there, but is GreenGeeks WordPress good for beginners? Read this GreenGeeks WordPress hosting review first! If you don't you will SMACK yourself later!
What To Expect In This GreenGeeks WordPress Hosting Review 2023
In this Greengeeks WordPress hosting review you will learn from an experienced blogger why I think GreenGeeks WordPress hosting is one of the best hosting leaders for WordPress websites. Today I will go over the features, specs, uptime performance and also customer service. With this info you will see the benefits and true value of hosting with GreenGeeks!
Nobody likes change, but in 2018 I made a big one! I stopped buying domains at Godaddy and went Namecheap! The reason? The domains are way cheaper over there and a lot easier to deal with than Godaddy.
However, something that I also realized that was cheaper and more reliable are the WordPress hosting services that GreenGeeks offers. The GreenGeeks WordPress hosting has been around since 2008 and is known mostly for its green eco-friendly hosting and cheap prices. 
GreenGeeks Review: The Plans
What I like about the GreenGeeks WordPress Hosting Plans is that they are very simple to understand. They have 3 cheap hosting plans that you can choose from to create your website in minutes:
Lite Plan
Costs

$2.95 per month [was $9.95/month]
Can create 1 website
1-Click WordPress Installation
Unlimited Web Space
Unlimited Data Transfer
Free Domain Name for 1st Year
Free Wildcard SSL
Standard Performance
PowerCacher Included

Gives you 10 GB SSD Storage

Handles 50,000 monthly visitors
Who Should Use the Starter Plan?
This Starter plan is best for beginners and newbies to web hosting in my opinion. The surprising thing about this plan is the high volume of web traffic on the 1st tier.
As a beginner creating your first website online, this plan is also better being that you can use it to scale up over time as your website traffic grows.
Pro Plan
Costs

$5.95 per month [was $14.95/month]
Can unlimited websites
1-Click WordPress Installation
Unlimited Web Space
Unlimited Date Transfer
Free Domains Name for 1st Year
Free Wildcard SSL
Speeds are twice as fast
PowerCacher Included

50 GB SSD Storage

Handles 200,000 monthly visitors
Who Should Use the Pro Plan?
This plan is for larger websites with higher volumes of web traffic and have a need to create multiple websites & add multiple domains. This is great for things like affiliate marketing, network marketing, etc.
Premium Plan
Costs

$11.95 per month [$24.95/month]
Can create unlimited websites
1-Click WordPress Installation
Unlimited Web Space
Unlimited Transfer
Free Domain Name for 1st Year
Premium Wildcard SSL
Dedicated IP Included
4 times Performance
PowerCasher Included

100 GB SSD Storage

Handles 500,000 monthly visitors
Who Is Premium Plan Best For?
I think that this plan is best for online stores and busy websites for large enterprises, corporations, and large organizations with high volumes of traffic.
As you can see above the pricing, it's better to simply pay for the the year to save more money on the front-end. I suggest in general that it is better to buy a few years of web hosting if possible versus just 1. You decide.
However, you can get started creating your website with for only $2.95/month using GreenGeeks now, click here: www.greengeeks.com
Now that you know more about GreenGeeks web hosting plans, not it's time to learn how to create a WordPress website or blog to make money online. Since I started with GreenGeeks, I have been using their Pro web hosting plan to create websites online being it lets me create multiple websites. But you can use ANY of their web hosting packages to create your websites today.
Here is a step by step GreenGeeks WordPress tutorial that I put together that shows beginner how to do it without any html or coding experience.
Money Back Guarantee
How does the refund policy work on the GreenGeeks WordPress Hosting plans? GreenGeeks offers a simple 30 day money back guarantee to customers. Over the years I have seen that most WordPress hosting providers offer an industry standard 30 day money back guarantee.
Hostinger also provides a 30 day refund policy with their WordPress hosting and only costs $0.99 cents/month!
Siteground, who also provides managed WordPress hosting costs $6.99/month.
A2 Hosting, another GreenGeeks WordPress hosting competitor costs only $2.99/month.
Bluehost also provides hosting for $2.95/month.
WARNING! The following managed WordPress hosting are NOT cheaper than GreenGeeks WordPress Hosting, but do have way faster page loads and performance with lightning server speeds.
As you could see above, GreenGeeks has many competitors, and the cheapest with hosting at 0.99/month was Hostinger! But I definitely must say that although Greengeeks is $2 dollars MORE than Hostinger, it's definitely worth every penny. Greengeeks as you will see when you get started with them has mush faster speeds and performance. But again, if you are looking for a cheaper deal, then Hostinger would be it.
What You Must Know About GreenGeeks Hosting
There are a few things that you must know about GreenGeeks that I wanted to highlight before getting started. First, you should know that they are known for green hosting. This means in short that really care about preserving the environment and ecosystem.
The 300% renewable energy powers their servers & is recycled and reused to avoid waste. I really like this idea and admire that GreenGeeks is trying to help the planet's resources. No other web hosting provider outside outside of Greengeeks is doing this.
This is another reason why I highly recommend using Greengeeks web hosting services to create your website today. By doing so, you will be personally contributing to improve and save the environment and planet.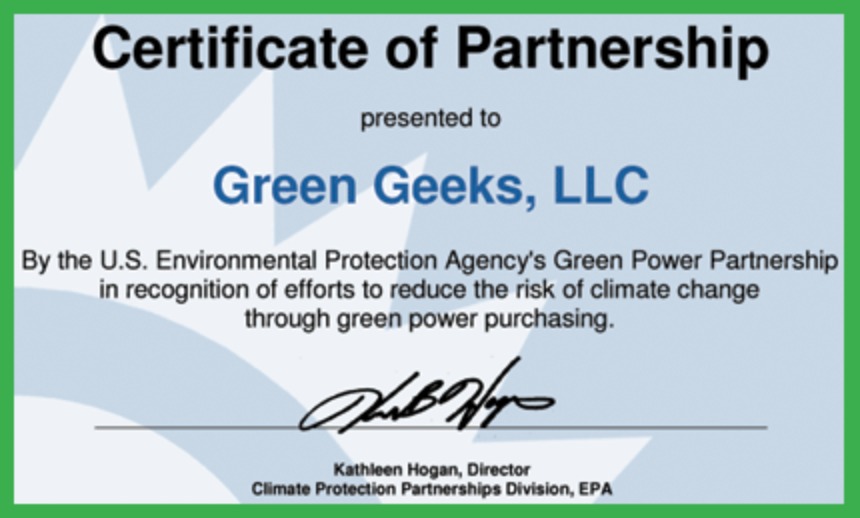 Something else that you will receive as mentioned above when you get started with GreenGeeks is a FREE domain for your 1st year! Now this is like a $15 savings alone that you receive. Also they give you FREE SSL certificates for your WordPress websites. This is great for a number of reasons.
One, Google in 2018 made an important announcement regarding websites that don't have SSL certificates. Basically they said that websites would be marked unsecured to visitors if they didn't have one. To address this and reassure your customers that your website is secure, GreenGeeks provides these to you for FREE.  
How Is GreenGeeks Customer Support? Any GreenGeeks Pros and Cons?
Now let's talk about GreenGeeks pros and cons. I have been creating blogs and websites using WordPress for quite some time. And something that I wanted to mention in this GreenGreeks review for WordPress is that they have AMAZING customer support to answer questions & handle issues.
This is specially important if you are a beginner online and may not be an expert with web hosting or a techie. But the truth is that you don't need to be an expert or a guru with web hosting. I don't really consider myself one although I have been online for several years. But there is one thing that I do know and that's where to find the experts. I mention this because it's important to know that if you have questions, then you can always reach customer support 24/7/365.
I know that I'm sharing my personal opinion in this GreenGeeks review, but what do others think? Have you has experience with them? If so, let me know below in the comments area.
When you checkout respected external websites such as Trustpilot, you will notice that GreenGeeks web hosting has an great reputation with clients. They also have a 4.5 of 5 star-rating by users and on Facebook.
Also they are not owned by EIG and are a stand alone web hosting provider.
I mention this that you will know exactly what to expect with their web hosting services, performance and customer support.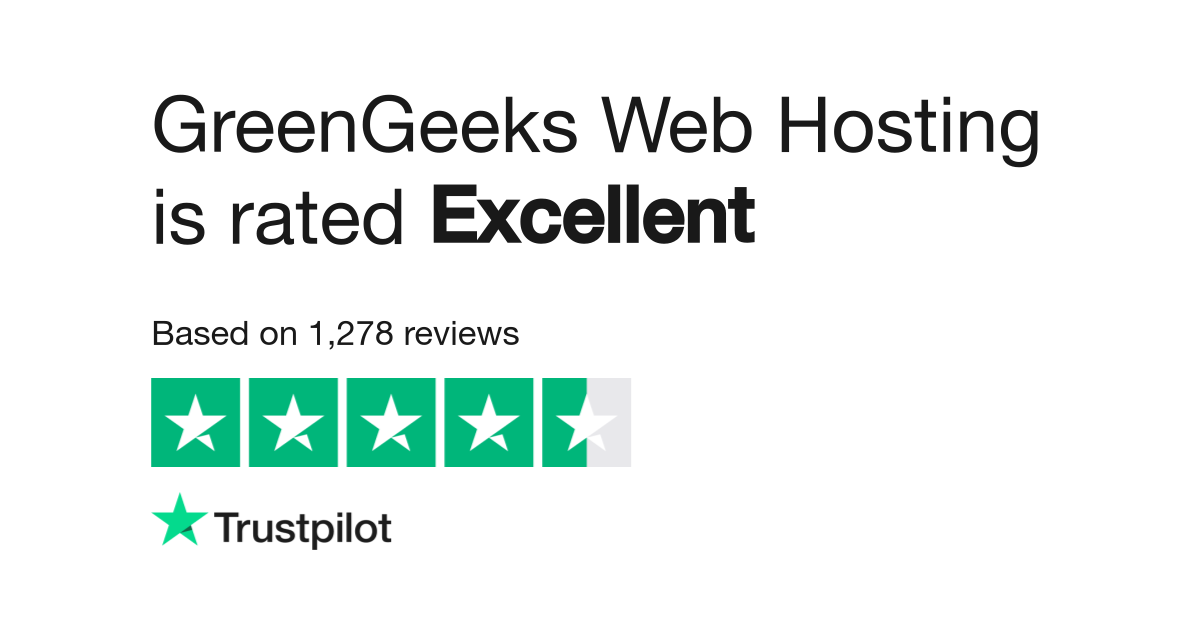 86% feel that GreenGeeks web hosting is Excellent
3% state that GreenGeeks is Great
<1% rated them as an Average
<1% say that it was a Poor web hosting provider finally..
10% said that GreenGeeks hosting is Bad
I think that these stats are really amazing when considering many of the EIG owned providers out there that don't good customer support nor the performance. Granted, EVERY web hosting provider on the planet will have some negative or bad reviews online. Obviously GreenGeeks is not the exception.
As for GreenGeeks complaints you will not find many online like most EIG owned companies being they have an awesome reputation overall.
I took a look at their BBB report and noticed that they also had an A rating. There was only like one complaint were a customer requested a refund, but didn't get the costs for the domain name back. However, for me as an experienced bloggers online I know that EVERY web hosting service has this clearly disclosed. This is the case because domain names are registered for a year upfront so if you CANCEL your web hosting with the provider this means you KEEP the domain name.
Most domain names costs about $15/year and the web hosting provider is out this money so it just makes sense that you keep your domain. But as long as you stay with GreenGeeks or ANY web hosting provider for the year, then you have no worries about paying for the domain name. Getting the FREE domain promo is great, but you have to stay for the year. This is the case with ANY web hosting provider online that offers FREE domains.
But other than that guys GeekGeeks has amazing customer support and rock solid server performance as you will notice with the vast majority of their users.
Why do I mention these other GreenGeek reviews with you? Because, this is an honest and unbiased GreenGeeks WordPress hosting review that gives you the good and bad. This way you can consider all things that should matter.
Also, being that I feel having excellent customer support is extremely important, I think it's worth mentioning how AWESOME GreenGeeks is in this area. They really stand out and actually care about customers and I know this first hand dealing with them. But again I wanted to share with you also what other people think about GreenGeeks too.
4 Data Centers:
Amsterdam, NL
Montreal, Canada
Chicago, USA
Phoenix, USA
Things To know About GreenGeeks Data Centers & Security
You should know that their 4 data centers are staffed 24/7 by SingleHop technicians and engineers and also monitored remotely.
GreenGeeks also uses biometric and key card system including man traps and rack level locking mechanisms for security.
There are dual-city grid power feeds, plus battery backup with automated transfer switch and an on-site diesel generator.
They have an automatic temperature & climate control system with humidity along with temperature sensors that are located throughout their facilities.
SAS 70 Type 1 certified [audit report available upon request]
I wanted to mention these things to help you to see that Greengeeks cares a lot about security and protecting your data.
Also, they have amazing uptime performance on their servers. I wanted to highlight it in this GreenGeek WordPress hosting review. It's important know what uptime is and why it matters.
Today you performed a search on Google for a GreenGeeks review 2023. Perhaps you wanted to know is GreenGeeks any good for WordPress websites? On any note you made it to my blog because it on in the search engines.
Suppose you clicked on my blog and it was offline, what would you have done? Gone to another listing in the search engines, right? It leaves a bad impression on your visitors when your website has bad downtime. This also affects your SEO rankings which causes you to lose money online.
I mention all of this because when you create a website online, it should be with a web hosting provider that has rock-solid uptime performance like GreenGeeks. Nobody wants to lose money online, right? Of course not! During my experience using GreenGeeks online, I have never had any issues with them at all. This is another BIG reason why I HIGHLY recommend using them for beginners online to make sites.
Why GreenGeeks is Better Than Their Competitors
Solid State Drives
Free Nightly Backups
Free Domain
Enhance cPanel
1-Click WordPress Installation
Secure Email Accounts
SSH Access
30 Day Money Back Guarantee
Google Apps Integration
Unlimited Disk & Transfers
Free Marketing Credits
Site Migrations are Free
Want To Transfer To GreenGeeks?
Next in this GreenGeeks WordPress hosting review, I want to cover site migrations and how to move to their platform. You can transfer domains & websites for FREE to their platforms once you get started.
To do this, you will need to provide the EPP code from your current web hosting provider before migration process starts. Once you have this, then GreenGeeks specialists will migrate your website & the process is pretty fast. So if you are not happy with your current web hosting provider and you have been experiencing problems, then signup with GreenGeeks today!
GreenGeeks Review for WordPress Conclusion
There are many GreenGeeks reviews out there, but this is very unique. Today you received a 100% honest review of GreenGeeks WordPress hosting including the good, bad and ugly. This will help you to make a solid decision to get started today!
I get thousands upon thousands of visitors each and every month to this WordPress blog learnanet.com. I realized that you came here to see is Greengeeks WordPress hosting good or not in comparison to others.
In this Greengeeks WordPress hosting review today I wanted to give you not only honest opinion, but also to some external sources to provide an unbiased experience for you before signing up with Greengeeks. If you love and appreciate honesty, then let me below in the comments.
Maybe you are one those who wants to divorce your current web hosting provider and migrate to Greengeeks for FREE today. Or maybe you a total beginner and newbie online and this will be your first website that you are making. On any note, you are here because you are looking for a reliable web hosting provider that won't break your pockets.
I also realize that as a business owner and entrepreneur myself, the most important digital prized asset that you will need to select is your web hosting. You need a web hosting provider that has rock solid uptime performance and keeps your website, blog, or eCommerce store online when people are searching for you in Google just like you found me today!
I recommend using Greengeeks because they are not only super reliable, but also have great 24/7 customer support, website building tools and are very affordable for all pockets.
Now that you have all of the info that you need to started creating your WordPress website, it's time to take action NOW and get your website online. Thank you for reading this Greengeeks WordPress hosting review and hope you much success online with your business!
GreenGeeks Frequently Asked Questions
What payment method does GreenGeeks use?
You can pay for web hosting using any major credit such as American Express, VISA, and Mastercard. GreenGeeks even accepts Paypal as an easy option to pay and renew web hosting services. Most web hosting providers online do not accept Paypal, however GreenGeeks does offer it to customers as a really convenient option.
When you get started today with a GreenGeeks WordPress hosting plan, there are several ways to pay for it. There are very flexible terms for web hosting of 1 year, 2 years, or 3 years. The longer the term selected, the better web hosting discount you will receive. There is a 30 day money back guarantee on all web hosting and you can cancel at anytime.
Where is GreenGeeks located?
GreenGeeks is based in Los Angeles, USA with clients that use their web hosting services in over 150 countries. GreenGeeks has over 600,000 websites that are hosted globally on their servers. There are 4 data centers that customers can use to build websites for better page and content delivery.
Who owns GreenGeeks?
Trey Gardner is the CEO of GreenGeeks and has been in the web hosting industry sin 1999. He has worked and help grow well known web hosting brands such as Hostpapa, Lunarpages, Globat, iPowerweb, iPage, Dot5Hosting, StartLogic and now GreenGeeks.
The main focus that Trey Gardner has maintained with GreenGeeks is to provide high quality green energy web hosting services. Their web hosting is super affordable for all users and saves energy for websites and is eco-friendly. Their CEO and management have over 40 years of experience in the web hosting history and have an excellent reputation online.
What does GreenGeeks do?
GreenGeeks is a web hosting provider known mostly for their eco-friendly hosting services. They care more about the environment and preserving energy. GreenGeeks offers a wide range of web hosting solutions to help entrepreneurs get online within minutes. There are web hosting packages for all users and budgets which are super affordable. GreenGeeks offers shared hosting plans starting at only $2.95/month which allow users to create 1 or unlimited websites depending on business needs.
For individuals who have higher volumes of web traffic, GreenGeeks offers the fastest VPS hosting with cPanel. With a virtual private server users will get more dedicated resources which will promote even faster page loads and security. Now if you are someone wanting to open an online store to sell items, then GreenGeeks WooCommerce hosting is best to use. It also costs only $2.95/month and comes with all of the tools to help you launch your online store the right way.