Do you have a blog and would like to know how to add multiple domains in cPanel? If so, then you come to the right place! This is a really good question that many beginners ask about hosting multiple websites on your hosting account.
Many bloggers that look for ways to monetize their business will create additional websites. Over the years I have created several websites to promote affiliate marketing products online. Perhaps you want to so the same?
Did you just get started in a network marketing business and need to create multiple websites? Are you a blogging and will have a need to create additional blogs online? Multiple eCommerce stores? Let me know below..
Today, I will show you step by step how to add multiple domains in cPanel to create websites with WordPress and other CMS platforms. This is a very simple task that you can do easily with ANY web hosting provider that uses cPanel. It doesn't matter if you want to start a WordPress blog with A2 Hosting, Bluehost, Hostgator, Hostpapa, Namecheap, GreenGeeks, Hostwinds Hosting, etc.
The only real difference that you will notice with many web hosting services is the actually color and layout of the cPanel hosting dashboard. Essentially the buttons and icons do the exact same thing. Besides that, I have experienced with several web hosting services that if you follow the same steps, you will easily be able to addon domains to create additional websites online for your business.
How to Add Multiple Domains in cPanel [4 Steps]

Step 1 – After you buy your domain name, you will then log into your cpanel hosting with your username and password credentials. You can get a domain name from a web hosting provider that allows addons.
There are some web hosting providers that will give you a FREE domain for your first year. This is great especially if you don't have one already have one.
Bluehost here at www.bluehost.com and GreenGeeks at www.greengeeks.com are really great examples of this.
Step 2 – Once you are on the inside and can see your dashboard as pictured below, you will then scroll down to the "DOMAINS" section and click "Addon Domains".
Step 3 – The very next screen that pops up is pictured below. This is the place where you will actually enter in the domain name that you just purchased.
NOTE: If you purchased your domain from another domain registrar that is different from your web hosting provider, you will have to FIRST point the nameservers to your web hosting provider. Thereafter, you can addon the domain. Drop me a comment below if you need help with this.
However, if you purchase the domain name directly from your web hosting provider, you are all set. You can simply continue with the following step.
When you enter the domain under "New Domain Name", Subdomain and Document Root fields will automatically prefill.
Step 4: Once you have finished, you will click on "Add Domain".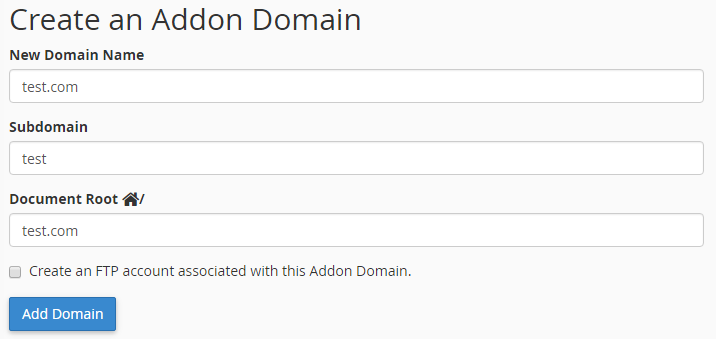 After a few seconds, the next screen will tell you that your new domain has been created and added.
How to Install WordPress on Your Domain
Step 1 – To install WordPress on this domain that you have just added, you will go back to your cPanel home page and the scroll down and click on the "WordPress" under "Softaculous Apps Installer".
You should see a screen that looks like this below.
Step 2 – After you click on the "Install Now" button, then choose your domain from the drop down.
Thereafter you will see some fields that need to filled out. It's easy.
Fill in the Site Name with the name of your website. In my case, it's Learnanet. Then you will enter your Site Description which will a tagline. This tagline is a brief description of what your website is about so visitors will know.
Next key in your Admin name and Admin Password. The admin name can be something that is easy for you to remember. However, the admin password should be easy for you, but really difficult for others to guess. I recommend using at 8 -10 characters using a mix of letters, numbers or symbols. This admin name and password will be used to log in to the back end of your website. This will you to customize and build it.
NOTE: This is totally different from your cpanel provider by your web hosting provider.
Your Admin Email will be an email that you use everyday. This email is used to send you important communications from WordPress that you need.
Once you finish filling out the Site Settings and Admin Account sections, you will then enter your email at the bottom and then click "Install".
After a few seconds, your next screen will show that your WordPress website has been created and is now live online! You will receive a confirmation of your WordPress installation to your email.
You will notice that by default, the Language tab will be set to English below. If you speak another language and would prefer to see your website communications in that language, then you use the drop to change it.
Conclusion..
If you have a web hosting package that allows for hosting multiple websites on your hosting account, then this is the exact process that you will follow to add multiple domains in cpanel and install WordPress.
This same process would also work even if you would like to create a business website using other CMS platforms like Joomla, Drupal, Magento, etc. I have done this process several times over with different web hosting providers. I know that this will help you also.
As you could see guys learning how to add multiple domains in cPanel hosting and install WordPress is a quick process. It doesn't require that you know or have any html or coding experience.
Was this easy for you to follow today? Do you feel more comfortable and understand now how to addon domains to your cPanel account and install WordPress? If so, I would love to read your thoughts below.
I hope that you have much success this year and beyond with your business online!