If you are reading this Kinsta WordPress hosting review 2023, then maybe you ask is Kinsta any good? Yes they are! If you have ever wanted a website with blazing fast speeds, then you have come to the right place! Is it true that they are the fastest WordPress hosting in 2023 with 63% cheaper Google Cloud hosting and 200% FASTER than competitors? Read this Kinsta WordPress hosting review to why you should chose them over others to create your websites today!
I have been online nearly a decade and during this time I have come across several providers who specialize in managed WordPress hosting. Some were okay, while other not so much. Some common household brands like Devrims, WP Engine, Namecheap, BionicWP, Knownhost, JavaPipe, and even Liquid Web.
No doubt, these as well as Kinsta will definitely get you online fast especially if you need a rock solid WordPress website. But what makes Kinsta hosting so special?
Disclaimer: This page contains affiliate links. When used, learnanet receives a modest commission for referrals. This doesn't affect your costs at all. It actually gives you the best discount available on Kinsta hosting services and allows me to make my favorite peanut and jelly sandwiches.
What To Expect in This Kinsta WordPress Hosting Review 2023
As mentioned before guys in this review of Kinsta WordPress hosting we will be talking all about the company behind the name, their reputation, customer support, uptime and other details that you MUST know before getting started.
Also, to be fair and honest in this Kinsta WordPress hosting review 2023 as with ALL of my web hosting reviews, I will give you some Kinsta alternatives in the same playing field. Is this okay with you? Most of readers think so! Also, if you have any questions or comments, don't forget to drop them below in the comments area please.
What Is Kinsta Anyway?
Kinsta, at www.kinsta.com is a fully managed WordPress hosting provider based in Los Angeles, California, USA. They are primarily known for their scalability and lightning fast page loads and being it's powered by Google Cloud. With this cutting-edge technology, security, and infrastructure, they really come out on the top & leave their competitors in the dust.
Frankly, it's one of few managed hosts that offer hack free guarantees to its customers and is really performance driven. They have been in business since 2013 and WordPress is all they specialize in as a company.
As a fully managed platform, they even their own caching that definitely promotes super fast page loads and great serve performance. As a result they are viewed as the fastest WordPress hosting in 2023.
With many of the best cache plugins for WordPress online, you have to configure them by yourself and this can be complicated for beginners. However, with Kinsta WordPress hosting they have this already figured out have caching fully integrated already with their servers.  This in addition to their infrastructure gives you 200% FASTER speeds and performance than other web hosting providers.
But let me stop rumbling and dive into what else makes Kinsta built for fast speed in this Kinsta WordPress hosting review 2023.
Checkout this previous video to learn more what to expect from Kinsta.
Get 4 Months FREE now with any annual hosting plans!!
Kinsta marketshare shows that there are thousands of businesses and developers that user their premium WordPress hosting & Google Cloud for their websites.
Notice a few companies that use Kinsta WordPress hosting:
Flippa
Spotify
Snapchat
Workforce
The Sports Review
Elcome
HTC
Best Buy
Philips
Coca Cola
Dominio's
TripAdvisor
Sony Music
Faye Business Systems Group
Decide Consulting
Deverell Smith
Goldbelt Falcon, LLC
Pramati Technologies Private Limited
According to Stackshare, other companies that use Kinsta are:
Zhoustify
Stack
SEO Bandwagen
AN Current
HelloBello Tiernahrung
FinMasters
Beetstech
Companion Agency
RunaHR & More!
With this said, if you are looking for a pinto cheap around the block shared web hosting provider as a beginner, then I must honestly say in this Kinsta WordPress hosting review 2023 that they may not be for you yet. Just being honest guys. That's what my viewers expect. True honesty.
However, if you want to start a blog on WordPress for beginners using cheap shared hosting, then see our resource page here. There are also some highly recommended web host for beginners to create websites online.
Kinsta managed WordPress hosting is for entrepreneurs who want faster server performance, solid uptime, quick & responsive 24/7 knowledgeable customer support. If you want top notch service with expert WordPress developers, then Kinsta hosting is for you and is definitely for you today. The above websites mentioned get high droves and volumes of web traffic in the millions! They obviously trust & use Kinsta hosting plans to manage their websites for a reason. Why don't YOU?
Kinsta WordPress Hosting Review 2023: Fully Managed WordPress Hosting Plans [Updated Below]
Now let's talk next in this Kinsta WordPress hosting review about the pricing and real costs of using their fully managed WordPress hosting services.
NOW Updated! Get More SSD Storage with Kinsta's Platform..
Starter Plan: Only $30/month, 10 GB SSD storage, 25,000 visits per month [Great for beginners to create 1 website]
Pro Plan: Only $60/month, 20 GB SSD storage, 50,000 visits per month [Great to create 2 websites]
Kinsta Business 1: Only $100/month, 30 GB SSD storage, 100,000 visits per month [Great to create 5 websites]
Kinsta Business 2: Only $200/month, 40 GB SSD storage, supports 250,000 visits per month [Great to create 10 websites]
Kinsta Business 3: $300/month, 50 GB SSD storage, supports 400,000 visitors per month [Can create 20 websites]
Kinsta Business 4: Cost is $400/month, 60 GB SSD storage, great for websites with 600,000 visitors per month [Can create 40 websites]
Does your website get over 1 million visitors per month? If so, then you should look at Kinsta's Enterprise hosting packages which handle these high volumes of web traffic. The awesome thing is that Kinsta is a complete scalable WordPress hosting that allows you to easily upgrade as needed with your web traffic and resource needs.
NOTE: Kinsta WordPress Managed Hosting is super flexible & allows you to pay month-to-month or choose annual plans. You decide. No contracts. You will receive 4 months FREE with any annual hosting plans. Awesome deal!
To get started right now with Kinsta WordPress Hosting, click here now => www.kinsta.com
Awesome Benefits of Using A Cheaper Google Cloud Hosting Like Kinsta
You get Free site transfers of your WordPress website with any of Kinsta hosting plans
You will have complete access to analytics in your dashboard to measure things like how much bandwidth you consume, number of visitors your site, and even where they come from.
The platform for Google Cloud has great firewall to protect your WordPress website keeping it secure 24/7/365. And if your website is hacked, then Kinsta's guarantee is to fix it for FREE. [There are only 2 other WordPress hosting providers that I know do this outside of Kinsta such as FastComet Hosting & Knownhost]
I love that their managed platform provides instant daily backups of your WordPress website and makes copies automatically that way you will lose your content. You can restore your website a twinkle of the eye.
 You get Free CDN for super fast page loads and to handle web traffic spikes. Also you get Free SSL certificates to reassure your clients that your website is safe. Also they are great especially for eCommerce stores and products sold on your website.
You can create a WordPress website in a staging environment and then go live whenever you are ready to go public.
Once logged into your dashboard, you can take advantage of 24/7 customer service if you need help with your blog or website.
LXD containers, MariaDB, Nginx, PHP 7.4 on Google Cloud Platform for lightning speeds. No doubt page speed of your website is a HUGE ranking factor for Google. Kinsta has you covered here!
Kinsta Integrations
WordPress
Drupal
NGINX
WooCommerce
Cloudflare
Redis
Elasticsearch & More!
Money Back Guarantee
I wanted to mention in this Kinsta WordPress hosting review 2023 that Kinsta offers its clients a 30 day money back guarantee. This refund policy is quite standard in this web hosting industry. I mention this because although Kinsta is the KING for fully managed WordPress hosting, there are other hosts who extend even longer.
For example, I wrote a Pressidium review here & Hostwinds review showing how they give clients 60 days.  Inmotion hosting offers clients a 90 day refund policy while Dreamhost offers 97 days. However, Mochahost crushes them all in the area with an amazing DMV long 180 day money back guarantee!
Although I do feel that Kinsta knocks the socks off its competitors with speed, uptime performance and customer support, it's also good to know what their competitors offer in this field also.
To get started right now with Kinsta WordPress Hosting with 4 months off, click here now => www.kinsta.com
Kinsta Uptime Guarantee, Performance & Speed
Next in this Kinsta Premium WordPress review 2023, I would like to discuss speed. Website speed performance is extremely important and obviously a huge factor that Google uses to rank websites in the SERPs. Websites that have slow page loads rank lower, while faster page loads result with higher Google SEO rankings. This is largely because if people who clickthru your website have to wait several seconds for your website to load will likely bounce off your website and go to your competitor's website.
So how does Kinsta ensure fast performance?
There are many things that contribute to the fast speeds and performance that Kinsta Premium WordPress hosting delivers clients. First, the Kinsta uptime guarantee is 99.9% on servers.
They have 35 Google Cloud data centers that use the Google cloud around the world where you can host your websites.
I recommend that when you started today to think about the location of your visitors and then select a data center closest to them. This will ensure a better user experience for visitors that land on your website. Most web hosting services online automatically place you on a server or attach you to a data center. But with Kinsta hosting, you have the freedom to select whatever data center you prefer and want to create your website on.
Complete List of 35 Kinsta Managed WordPress Data Centers:
Changhua County, Taiwan
Hong Kong
Tokyo, Japan
Osaka, Japan
Seoul, South Korea
Mumbai, India
Delhi, India
Jurong West, Singapore
Jakarta, Indonesia
Sydney, Australia
Melbourne, Australia
Warsaw, Ploand
Hamina, Finland
Madrid, Spain
St. Ghislain, Belgium
London, New Kingdom
Frankfurt, Germany
Eemshaven, Netherlands
Zurich, Switzerland
Milan, Italy
Paris, France
Tel Aviv, Israel
Montreal, Canada
Toronto Canada
Sao Pablo, Brazil
Santiago, Chile
Council Bluffs, Iowa
Moncks Corner, South Carolina
Asburn, Virginia
Columbus, Ohio
Dallas, Texas
The Dalles, Oregon
Los Angeles, California
Salt Lake City, Utah
Las Vegas, Nevada
Another contributing factor to their faster speeds and page loads are the FREE CDNs that are in place.
Why use a CDN? According to gtmetrix, help in many ways to deliver & distribute your website content faster to your visitors throughout the world. They also prevent crashes in the event your website experiences spikes in traffic. This is something to be expected with ANY website online especially as your web traffic grows and becomes more popular online. I personally get LOTS of traffic from all over the world with people just like YOU searching for super reliable web hosting to create websites from Google, Youtube, forums and more. So CDNs help to manage all of these visits and that's why I trust and recommend Kinsta.
CDNs are something that Kinsta hosting provides for FREE on their platform and they help to deliver super fast page loads and your content globally. This again is important especially for your potential customers who search for your products & services in search engines. If your website is not reachable in a hot microwave second, then people will simply bounce off of your page & go to your competitors in the SERP results. This obviously that you will lose money and potential sales 🙁
The awesome thing about Kinsta WordPress hosting is that it's optimized for HIGH performance and can handle and process HUNDREDS of THOUSANDS & even MILLIONS of website visitors at once. That's the power of having Content Delivery Network that delivers your content super fast creating a awesome user experience. With Nginx powering their websites, this is how big brands online really deliver and never crash with spikes.
Another thing that contributes to their super fast speeds is that it's managed hosting versus shared web hosting. With most shared web hosting providers, thousands of customers are stacked are single servers which delivers slower performance. However, the experience is superior with Kinsta hosting being it works on Google Cloud. With this type of high performance, Kinsta uptime guarantee & scalability users should expect to pay more for managed hosting.
It's worth every penny and you will thank yourself later!
How Is Kinsta WordPress Security? How Secure Is Kinsta?

Something else that you will really appreciate is Kinsta WordPress security. They take it really seriously and this is one of many things that I love and appreciate as a blogger and entrepreneur. How?
Think about how Google in 2018 made an important announcement about having SSL certificates. The outcome was that websites without them would be marked unsecure and may rank lower in Google. Kinsta managed WordPress hosting understands this clearly and gives you FREE SSL certificates for all of your websites through Let's Encrypt.
These will be especially important if you are selling products on your websites and perhaps want to create an eCommerce store to accept payments. These SSL certificates will protect and encrypt personal data on your websites and assures customers their info is safe. On top of this Kinsta has a hack free guarantee on your websites were they will repair your website. I don't know too many other web hosting that offer this. These are provided using Let's Encrypt for FREE.
Also, with Kinsta Premium WordPress hosting you will get automatic daily backups and copies of your website which make it easy to restore with a click in your MyKinsta dashboard.
Also, you can count on your websites being monitored 24/7/365 to block DDoS attacks & protect against malware and hackers.
There are several other security features and measures that Kinsta has in place that will put you at ease. For example, they have something that I haven't seen in any other web host which is a hack-free guarantee. What this means is that if your WordPress website is hacked, then it's covered by the Kinsta security guarantee. They will fix it for FREE and undo the damage. This is unique because most web hosting providers will tell you about, but thereafter it's your responsibility to fix it.
Also to ensure that your website is up to date, WordPress minor security patches (not core) are applied automatically when that become available. They use Linux containers to orchestrate complete isolations & allow you to enable a two-factor authentication to protect your logins. Support is provided for SSH connections and encrypted  SFTP (no FTP).
Kinsta WordPress security takes other measures to protect your websites. For example, they remove from your WordPress site the PHP version that you're using from the HTTP headers. They have restrictions on open_basedir that will prevent execution of PHP in certain directories that are prone to malicious attacks.
Also with any WordPress installation that is fine on a website I always recommend using strong passwords. This is something that Kinsta also highly enforced to ensure your WordPress websites are safe and secure.
The cool thing is that inside of your MyKinsta dashboard you will be able to block any IP address. This can be done by using the IP Deny Tool.
To maintain the security of your website, its extremely important to keep themes and plugins updated. Why? Websites that are not updated regularly are often hacked online.
For example, Weebly was hacked and as a result 43 million user credentials were stolen.
Bluehost reported many websites were hacked including the blog of their CEO Matt Heaton.
Even WP Engine reported a security breach where customer credentials were exposed and this led to lots of frustration.
According to WordPress.org, 77% of WordPress users are using an unsupported version of PHP, 7.0 or lower. This exposes them to unpatched security vulnerabilities.
Why do I mention these examples? Because your Kinsta WordPress security is extremely important and they take it very seriously.  Your web hosting that you select DOES matter. You need to build a site with a provider who really cares. This is another big reason why I highly recommend using them in this Kinsta WordPress hosting review. They have fully managed hosting with rock solid security measures including DDoS protection, WordPress hardening and more to protect your websites 24/7/365.
Frequently Asked Questions About Kinsta: 
Is Kinsta Hippa Compliant? 
Kinsta uses virtual machines in one of Google Cloud's Platforms multiple data centers. Due to complex security and auditing required, Kinsta nor many other managed hosting providers can guarantee HIPPA or PHI compliance.
Is Kinsta PCI Compliant? 
Kinsta does not guarantee PCI compliant hosting nor are they able to audit client's websites to see if they are doing things correctly online. However, many of their clients have worked with third-party auditors to pass PCI compliance scans.
Kinsta APM Free 2023 – What Is Kinsta Application Performance Monitoring Tool?
When it comes to ranking a website on Google, Yahoo and Bing, one factor that can make or break your website is speed or page loads. Both search engines and your website visitors want your website to load fast without any issues. If there is too much latency or another issue affecting your site, visitors are likely to abandon it and go to your competitor's site in search results. How can you prevent this from happen and losing potential customers?
This is basically where the Kinsta APM free tool comes into play. So what is the Kinsta APM Tool? As a Managed WordPress hosting provider, they have crafted their very own performance monitoring tool for all WordPress websites hosted on their servers. This eliminates the need of installing any 3rd party WordPress plugins that promise to do the same thing. Surprising it is 100% FREE to use and download to monitor and detect any issues that might be affecting your site's performance online.
I think that this key because if your website has uptime performance issues, then this means that you will potentially LOSE money online. Nobody wants to lose money, right? Of course not! This is why you need to take advantage of very valuable Kinsta Application Performance Monitoring tool.
Another cool benefit of using the free Kinsta APM tool is that it captures information about PHP processes using timestamps, external HTTP requests, MYSQL data and more. All of things can affect the overall speed performance of your WordPress website and it's great to know what's cause the issue if one exist. This way you know what exactly to fix and there's no need to troubleshoot wasting a lot of time trying to figure out the problem.
Kinsta APM Requirements For Installation
To be able to install or download this Kinsta APM free tool, it's recommended to have at least 10 GB of disk space although you need a minimum of 5 GB. It's recommended to have at least 4 GB of memory and a minimum of 2 GB. The recommended Docker Desktop requirements are >=v4.17.0, however you should have at least v2.0.0.
To start using this Kinsta APM FREE Tool, get started right now with Kinsta hosting and get 4 months OFF annual plans!
Kinsta Customer Support: How is it?
The next thing that I wanted to cover in this Kinsta WordPress hosting review 2023 with you guys is their customer support. Now, before you get started with Kinsta today, you should know something about them. Their customer support team takes their job seriously and knows what they are talking about. They have a team composed of WordPress developers who really know and understand WordPress. That's all they do.
What's more, their 24/7 customer support is not only super fast but also very nice. That's my personal opinion, but what do others say about their experience using Kinsta hosting?
Kinsta Trustpilot Reviews
As part of this Kinsta WordPress hosting review 2023, I wanted to show you guys an external source that is reputable and respected online called Trustpilot.
On this source, you will see how Kinsta has earned a Great rating by its customers due to their superb customer service, awesome page load performance, and uptime. There clients mentioned how they have hosting with other providers in the past, but finally glad that they found Kinsta hosting.
Some comments from Kinsta reviews on Trustpilot:
"The best VPS hosting for WordPress"
 "Easy and seamless migration"
"Kinsta is the best web hosting service. They run a company the way it should be run, a fair price and great support for performing technical issues"
"Competent staff, my website is now faster"
"I've moved several websites from WP Engine to Kinsta and I've been very pleased. The migration process was simple and well-documented and the quality of the hosting experience is second to none"
"Excellent company. Highly recommended. Switched from Bluehost to Kinsta. The UI is infinitely better and the speed of my website increased dramatically"
These are just some of many Kinsta reviews that you will find on Trustpilot.
Do you currently use Kinsta right now? If so, let me know about your experiences with their customer support. If not, let me know which web hosting provider you are using right now and your experience.
Many clients rave about their Kinsta web hosting, but I would also love to hear your thoughts below.
To get started with Kinsta WordPress Hosting right now, go here => www.kinsta.com
What About Kinsta Competitors?
To make sure that this Kinsta WordPress hosting review 2023 is unbiased, I wanted to give you some alternatives to Kinsta.
Kinsta just like any other host out there who has competitors that fight for your business. Some big VPS hosting competitors online that also play in the managed WordPress hosting space are Rocket, Nestify, and Scala Hosting.
Rocket and Nestify mentioned above both do 1 thing that Kinsta doesn't which is offer a FREE TRIAL on their managed cloud hosting services to clients. No credit/debit card required. In fact no other web hosting provider in the planet offers a Free Trial. All require you to pay upfront before being able to test it out. Rocket hosting has a great deal allowing you to get started for only $1!
To get details, go here now to www.rocket.net
Cloudways also has 60 data centers globally versus Kinsta's 35 data centers. Something else that is distinct about Cloudways vs Kinsta is that allow you to create a website in a staging environment first BEFORE going live along with the option of using 5 different servers: Digital Ocean, AWS, Linode, Google Cloud, and Vultr.
When you visit their official website here, you will notice that for their Google cloud hosting will cost you $33.18/month versus just $30/month at Kinsta.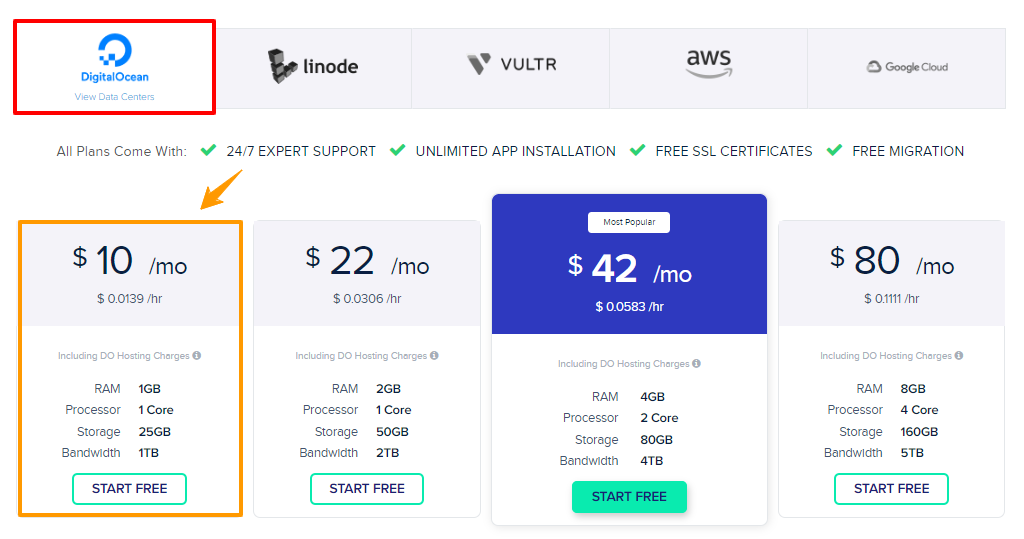 For more details on using Cloudways FREE Trial now, click this special here!
However, if you are looking for a competitor of Kinsta that is cheaper, then checkout Siteground.
Siteground is really cool WordPress hosting that is super reliable just like Kinsta, but cheaper for small business. For example, if you checkout their Startup WordPress hosting which handles 10,000 monthly visitors starts at only $6.99/month.
With their Growbig hosting plan at only $9.99/month however, it handles up to 25,000 website visitors each month and lets you create unlimited WordPress websites. Siteground also gives you a FREE CDN which is great for fast page loads and delivery of your website content globally to your visitors.. They also have a 30 money back guarantee just like Kinsta.
For more details on using Siteground to create your website now with 60% OFF, click this special link here!
LIQUID WEB
Liquid Web is another competitor of Kinsta that also specializes in Nginx and fully managed WordPress hosting. They support high volumes of web traffic in the millions starting at only $29/month! They have been in business since 1997 with MILLIONS websites hosted on their platform. Unlike Kinsta's 35 data centers, Liquid Web has 5 data centers globally with 100% uptime guarantee! They also have a FREE TRIAL offer.
For more details on using Liquid Web to create your website now, click this special link right here!
Why do I share these competitors with in this Kinsta WordPress hosting review 2023? Simple. I am honest and want you to see how to get the most value for your hard-earned buck.
I LOVE everything about Kinsta Premium WordPress hosting and HIGHLY recommend using them to host your websites today. They are really awesome for supporting high volumes of web traffic. But, just wanted to share some other competitors with you that play in this ballpark.
To get more details on getting started with Kinsta WordPress Hosting along with 4 months OFF annual plans, visit here => www.kinsta.com
Kinsta Pros and Cons
Although is the fastest WordPress hosting 2023, they are not for everyone. What do I mean? If you are beginner online and have never created a website before, then Kinsta WordPress hosting is not for you.
You should create a simple WordPress website using some of best shared web hosting online to start off. Why? Although some may have some limited resources, shared web hosting is overall much cheaper for newbies online and will save you some money in the beginning.
However, once your page views increase and you start to gain more traction online, then it's time to graduate and upgrade to a managed host like Kinsta. I just want to be honest with you in this Kinsta WordPress hosting review 2023.
Site Migrations
Do you currently host with another provider that you hate? If so, it's time to divorce them now and migrate your website over to Kinsta for FREE! You will be happy you did! It's actually a very fast process to move your website over to their platform.
I have found that some web hosting providers actually charge to migrate websites. But there is no costs to you at all to transfer your website to Kinsta. To start the process, you can get started using the button below. You can either use their WordPress Duplicator Plugin to migrate your website yourself or have customer support do it for you. It's your decision.
This short video shows how the WordPress Duplicator Plugin works to migrate websites. It's really simple, easy and straight-forward.
But either way, if you are unhappy with your current web host's customer service, uptime or performance, then it's time for you to make a change today. Why settle for less? You deserve to have host that is 100% reliable with great customer knowledgeable customer support. Kinsta has a 30 day money back guarantee.

Kinsta WordPress Hosting Review 2023 Conclusion..
I realized that you searched today looking for a rock solid Google cloud hosting provider for your online business. This is why you clicked thru to my site and took the time to read this review of Kinsta Premium WordPress hosting. In today's brief review,  I wanted to deliver just that along with some straight-forward honest information to help you to learn more about signing up with Kinsta here.
It's possible that you are hosting right now with a provider that you don't like and want to move your site Kinsta today. As an entrepreneur and blogger I realize how big of a step this for you and the cool thing is that Kinsta will migrate your website for FREE.
You have learned a lot about what they offer with respects to their fully managed WordPress hosting services. Their Google Cloud hosting platform is fully managed (unlike shared hosting) and super reliable with great uptime & daily backups.
I realize that choosing a web hosting provider is job that should be taken seriously to have a successful business. In fact, it's actually the most important decision that you will EVER make for your business website! This is true because when your potential customers search for your business online on Google just like you did today looking for the best managed WordPress hosting, having a super reliable web host is a no brainer. It just makes sense.
Again, with Kinsta Premium WordPress hosting you will be getting:
Fastest WordPress Hosting in 2023
Multiple WordPress sites
No long-term contracts
Free Expert migration team help from WP Engine, Siteground, Flywheel, Pagely, Cloudways, Pantheon, Godaddy, Dreamhost, Bluehost, Hostgator, A2 hosting and tsoHost
30-day money-back guarantee
35 global data Google Cloud center locations
Entire infrastructure is built on Google Cloud Platform
Supports Nginx reverse proxy, HTTP/2, MariaDB, Ubuntu, PHP 7.4 to handle high volumes of website traffic and spikes
Free CDNs, super fast page loads and speeds
E-commerce functionality
720 uptime checks with their New Relic performance monitoring tool
MyKinsta dashboard and more!
2 Months FREE on annual plans
So which Kinsta hosting plan should you use to create your WordPress website now? Only YOU can decide which WordPress hosting plan will be best for your needs.
I love the Kinsta Business 2 plan. However, if you are a newbie or beginner online to managed WordPress hosting, go with the Starter plan here today. It's only $30/month and will allow you to host 1 website online supporting 25,000 monthly visitors.
However, as your business website grows over time as all do, their scalable WordPress hosting makes it super easy to increase resources as you are ready. It's just as easy as changing your underwear. This Starter plan is ideal for beginners in my opinion being you may not have an immediate need to add multiple domains or create several websites. Also as a beginner, you may not have a long following or droves of web traffic already as with most established websites, but still want to enjoy super fast performance.
However, if you are an affiliate marketer, network marketer, in MLM, a developer or larger business, it would be best to go with the Business 1 or Enterprise plan above as these Kinsta Premium WordPress hosting plans offer more resources & will allow you to create multiple websites for your business and niches.  They are also great for eCommerce and online stores that receive millions of visitors! What I'm getting at in this Kinsta WordPress hosting review 2023 is there is absolutely something for every entrepreneur's website needs.
Also, it goes without saying that great 24/7 customer support is GOLD in case you have questions, need help or have issues with your website. Thankfully Kinsta has you fully covered in this area and for this reason I highly recommend using them to create websites and blogs online.
I LOVE Kinsta WordPress hosting services and I'm 100% convinced that you will love them too! I hope you much success in your business and endeavors online!
Thank you so much for reading this Kinsta WordPress Hosting Review 2023 today. Now that you have all of the info you need to get start creating your website in minutes, now it's time for you to take action! Get 4 Months OFF on Annual Plans!
FAQ about Kinsta Managed WordPress Hosting
What is Kinsta used for?
Kinsta is used to host web hosting online that support larger volumes of web traffic. It's a premium style of Managed WordPress hosting services for those who have graduated from slow unreliable shared web hosting. It's awesome for businesses of any size including enterprises, agencies, small businesses, WooCommerce stores, Non-profit organizations and more.
Their MyKinsta allows users to have more control over the management of their website performance. It is mainly for people who are tired of using cheap shared web hosting services that are not reliable. It providers higher performance and can handle large volumes of web traffic without crashing. Being that it works on Google Cloud platform, Kinsta counts with 35 different data centers for users to choose from to host and build their sites on.
Why is Kinsta the best?
If you perform a search you will find literally hundreds of thousands of web hosting providers to create sites with online. However, something that makes Kinsta Managed WordPress the best is it's fast performance. While other web hosting are limited, Kinsta handles all types of languages and frameworks such as WordPress, PHP, Ruby, Github, MariaDB, Python, NodeJS, Bitbucket, Redis and more.
Another huge benefit of using Kinsta Managed WordPress hosting is the huge coverage and blazing performance. There are 35 data centers with C2 machines available in 26 regions which providers faster page loads and better user experience especially for your website visitors. Kinsta has customers in over 128 countries so it really doesn't matter where you or customers live, you will have rock solid uptime performance and reliability. You can create a website, blog or eCommerce store today that has up to 25,000 or even handles millions of monthly visitors. Also, there are some amazing deals where you can get 4 months FREE off Kinsta Managed hosting services on annual plans. There are FREE site migrations and all hosting plans come with a 30 day money back guarantee.
Why is Kinsta so expensive?
Think about your web hosting like the apartment or house that you live in. You can have an apartment where you share lights, water, food and resources among several roommates. The positive is that it's cheaper for each person, however the bad thing is that roommates may use more resources than others which hurts everyone else. Any typically in a apartment complexes you have to deal with loud neighbors and activity. However, with you buy a house it is completely yours and you do not have to share anything with anyone. Your house is in a quieter neighborhood with more protection and perhaps have a security guard.
Kinsta is more expensive than using your everyday shared web hosting services. The reason is because it is higher reliability and rock solid uptime performance with their Managed WordPress services. You don't have to worry about your website crashing and frequently security breaches. Kinsta provides 24/7 protection against malware, DDoS & brute attacks, automatic core, plugin & software updates, CDN for fast page loads and fast customer support.
The Kinsta pricing is more than worth it entrepreneurs should be willing to pay top dollar for top performance. You can go cheap online with web hosting and your business website will suffer the consequences later.  I think it really boils down to asking yourself..what is your business really worth to you?
Any other questions regarding Kinsta? Drop them below in the comments. Thanks for reading this Kinsta WordPress hosting review 2023. Get started right now with Kinsta and get 4 FREE Months Off!
How to Kinsta Agency Plans Free?
The Kinsta Agency Plans are really designed for WordPress websites that require higher volumes of monthly web traffic. The Kinsta Agency Plans cost start at only $227 for Agency 1, only $300 for Agency 2 and only $450 for Agency 3. There are no fixed terms and you can upgrade or downgrade at any time. This makes it easy to scale with your business online.
With Kinsta Agency 1 you can host 20 WordPress websites with 50 GB of storage, 6 PHP workers, 800 GB CDN and handles up to 400,000 monthly visitors
The Kinsta Agency 2 supports up 600,000 monthly visitors and lets you create 40 websites with 100 GB storage, 6 PHP workers, and 1200 GB CDN.
The Kinsta 3 supports up to 1,000,000 monthly visitors and lets you create up to 60 WordPress websites online with MyKinsta dashboard. This package comes with 150 GB storage, 8 PHP workers and 2,000 GB CDN.
I highly recommend that if you want to save the most money on your business, then it's best take advantage of annual hosting plans. If you do this, then you get 4 FREE Months OFF Kinsta Agency Plans! All Kinsta Agency hosting plans come with the 30 day money back guarantee.
Thanks again for reading this Kinsta review! Get started right now and save BIG with the fastest WordPress hosting in 2023!