If you are reading our WPX Web Hosting Reviews, then it means that you are looking for the best WPEngine alternative to create your website. Our review will reveal why WPX hosting really is the best managed WordPress hosting. I have tested several WordPress hosting providers over the years including WPEngine.  Read this WPX Hosting Review FIRST to see what I discovered about their pricing, customer support and more! If you don't, you might regret it later!
Some time I was blogging about the managed WordPress hosting services offered by WP Engine. Likely if you have heard of them or probably host with them right now. May you are wondering if it's worth switching to WPX Hosting or not. If that is the case, then you are not the only one. Thousands of people just like YOU are looking for the best WordPress hosting and cheaper WP Engine alternatives and wondering about WPX Hosting. I am glad that you came to my blog today! You deserve better.
WP Engine Pricing for most bloggers is way too expensive and doesn't really give you all the resources that  you need. But I think that you will get far more for your buck with WPX Hosting vs WPEngine in my opinion.
Disclaimer: There are affiliate links on this page. When purchase is made, I receive a modest referral commission. These links will give you the best WPX Hosting discount to create your WordPress website.
What To Expect In Our WPX Web Hosting Reviews
Today I will share with you not only my personal research on this WPX Hosting review, but also what they really have to offer for today's bloggers. I will also highlight some things that you should know about this host BEFORE getting started and if they are really the best provider. Hopefully this review will help you to see the real benefits of using WPX Hosting vs WPEngine.
WPX Web Hosting Plans
When it comes to buying providing premium managed WordPress hosting, there are mainly three that quickly come to mind: WP Engine and WPX Hosting. But today in this review we will focus more on WPX Hosting pricing and why they excel over their competitors.
As you see below, WPX Hosting has 3 managed WordPress hosting plans that bloggers can choose from and they are very competitive: Business, Professional and Elite.
Is WPX Hosting good or bad? Watch this brief video to learn more about their managed WordPress hosting.
What I think About WP Engine Pricing
When it comes to creating blogs & websites with WPX Hosting vs WP Engine, I think that WPX hosting pricing is just awesome for what they offer as for managed WordPress hosting. I say this because when it comes to finding dependable WordPress hosting that's fast, they really deliver.
When compared with competitors like WP Engine, you save lots of money on both monthly and annually plans.
View the graph below:
WP Engine Startup is $35/month versus WPX Hosting Business is $24/month = $11 monthly savings!
WP Engine Growth is $115/month versus WPX Hosting Professional $49/month = $66 savings!
WP Engine Business is $290/month versus WPX Hosting Elite is $99/month = $191/month savings!
So far in this WPX Hosting Review, you can see clearly that WPX Hosting knocks WP Engine's socks off and gives you far more value for your buck!
If you want fast WordPress performance and to also save the most money, then go with WPX Hosting!
WPX Hosting vs WPEngine Plans
The purpose of our WPX Web Hosting reviews is not to tell which one you should buy today. However, as a blogger and entrepreneur like yourself, I think it's best to select the hosting plan that best suits your business needs. Most beginners just go with the Business plan for only $24.99/month. This hosting plan is my favorite and will allow you to create up to 5 websites. However, when you compare this to what WPEngine is offering on the 1st tier you can only create 1 website with their Startup plan.
I think that as a blogger, the Professional plan gives you more value for your buck. For example, you will be able to host 15 websites versus just 5 with the WPEngine 2nd tier Growth plan. This is awesome for creating multiple websites for things like affiliate marketing, network marketing and home-based businesses.
Although their Professional plan is the best value considering the additional resources at only $49/month, the starter Business plan might be best for you for beginners. With the Business plan it may be all the resources that you need.
However, the Elite plan at $99/month lets you host 35 websites, but is probably great if you want to build several websites. It's all up to you! All in all, I think that WPX Hosting is great to host your site. Again, when you compare what WPEngine offers on its 3rd tier you can only create 15 websites.
Again, you can clearly see here in this WPX Hosting review that WPX Web Hosting allows you to create more WordPress websites than WPEngine on each tier.
Free Site Migration
Are you ready to leave and divorce WPEngine today? If so, then WPX Hosting will transfer your website for FREE within 24 hours!
This is a great service because it is hands off and let's you focus on what's more important in your life. Your business. They have a fast site transfer service that I have seen in all of my years online!
Our #1 Managed WordPress Hosting provider also has FREE site migrations. You can try their hosting right now for only $1.00 if you get started today! This special discount won't last long, you should get started right now!
WPX Hosting Money Back Guarantee & Refund Policy
Along with their 24/7/365 customer support, WPX Hosting plans offer a 30 day money back guarantee on their web hosting plans. This refund policy is right at average with just about all other web hosting companies like Namehero, Nestify, SiteGround, Flywheel, A2 Hosting, and Hostinger.
Cloudways offers a FREE TRIAL on their managed cloud hosting also gives a 30 day money. More detail here at www.cloudways.com.
However, other WPX Hosting competitors like Fastcomet and Hostgator let you started for $2.75/month offers 45 days.
Hostwinds is another awesome WordPress hosting provider that starts at only $3.29/month. They offer a 60 day money back guarantee on web hosting. Detail here at www.hostwinds.com.
Pressidium, a managed WordPress host at $42/month mentioned above also offers 60 days. Details here at www.pressidium.com
But I think that A2 Hosting takes the cake knocking all of their socks off starting at $2.99/month with a ANYTIME money back guarantee! Details here at www.a2hosting.com.
As you can see WPX Hosting doesn't have the longest money back guarantee. However, they do have FASTEST customer support, uptime server performance & customer feedback than these previously mentioned. Their customer support responds in 30 seconds or less. For this reason I share these with you today in this WPX Hosting review.
How To Get Started Right Now With WPX Hosting?
Although there are many ways to create a business WordPress website, WPX Hosting is the best way to go!
On their website There you will simply have to select which of the 3 managed WordPress hosting plans are best for your needs. Again, I recommend going with the Business hosting plan if you are new to WPX Hosting and only need to host 5 websites or less. It's really ideal in my opinion for beginners start creating WordPress websites fast.
If you already host your website with another web hosting provider, again WPX Hosting will transfer your website FREE. Again, they have a 30 day money back guarantee and give you 2 months for FREE web hosting!
All Plans Include:
FREE WPX CLOUD CDN
HIGH SPEED WPX CLOUD CDN
UNLIMITED SITE MIGRATIONS
UNLIMITED SSLs
24/7/365 SUPPORT WITH 30 SECONDS RESPONSE TIME
28 DAY AUTOMATIC FULL BACKUPS
MALWARE SCANNING & REMOVAL
HYBRID DDOS PROTECTION
LITESPEED SERVER + LITESPEED CACHE + OPCACHE
1 CLICK WORDPRESS INSTALLATIONS
AUTOMATED WORDPRESS & PHP updates
US,UK, AU DATA CENTER LOCATIONS
Compare Cloudflare Pricing to WPX Hosting CDN
One thing that I wanted highlight that I love about WPX Hosting is that they their very own CDN created for its platform. It's called XDN and it's free for all WPX customers on all WPX hosting plans.
When you compare Cloudflare's pricing to WPX Hosting, you will notice that Cloudflare CDN costs up to $200 per month if billed annually! That is very expensive and not affordable at all for most people.
WPX Hosting gives you their CDN with all of their WordPress hosting plan you get started with today. It iwll massively speed up your page loads. It really doesn't matter you are based in the USA, Europe or another country, their XDN and 37 endpoints will deliver your content to your visitors. It will promote a better user experience. That's why I highly recommend using the WPX Web hosting.
How WPX Web Hosting CDN Benefits Your Website 
There are many benefits to using a CDN [Content Delivery Network]. In fact, if you do not have one for your website, you will lose money and have a poor customer experience. Why do I say this?
Well according to gtmetrix and other sources, a CDN will ensure that your visitors receive fast page loads all around the world when landing on your website. When a user request your website online, a CDN node closest in proximity to your user will deliver the static content, ensuring the shortest distance for the data to travel, therefore providing the fastest website speed performance. The end result for your visitors is reduced latency which produces a better experience for visitors no matter their location.
When you think about it, this makes a lot of sense. Nobody likes to wait more than a few seconds for a page to load, right? The longer your visitor has to wait for your website to load, the more likely they are to bounce off and go to your competitor. You don't want that right?
Also, having a CDN to direct and manage your web traffic ensures that your website doesn't crash or go offline due to spikes in traffic. This could happen with virtually ANY website and your website doesn't have a CDN, then you will lose revenue. Think about this could mean for your business if you wanted to create and eCommerce store online or website to sell products. This could represent a lost to your business.
WPX hosting is great also for Nginx allowing your website to process hundreds of thousands of queries and traffic without crashing. to ensure this with the WPX Host, there are 37 endpoints globally to fast performance. Here are some of them below:
Sao Paulo, Brazil
Sofia, Bulgaria
Johannesburg, South Africa
Mumbai, India
Hong Kong, China
Singapore
Tokyo, Japan
Paris, France
Sydney, Australia
Moscow, Russia
Auckland, New Zealand
Manchester, United Kingdom
Conventry, United Kingdom
London, United Kingdom
Frankfurt, Germany
Amsterdam, Netherlands
Miami, USA
Toronto, Canada
Kansas City, USA
Silicon Valley, USA
Los Angeles, USA
Atlanta, USA
Ashburn, USA
Dallas, USA
Chicago, USA
Seattle, USA
New Jersey/ New York, USA
Lagos, Nigeria
Vienna, Austria
Warsaw, Poland
Mexico City, Mexico
Fujairah, United Arab Emirates
Sandefjord, Norway
Stockholm, Sweden
Seoul, South Korea
Madrid, Spain
Santiago, Chile
Again, every customer will receive a WPX Hosting CDN. It doesn't matter if you get the Business, Professional or Elite plan. You will receive this high performance with your web traffic.
How Is WPX Hosting Customer Support?
One external source that I wanted to include in our WPX web hosting reviews is Trustpilot.
Trustpilot is a great place online that I found some time ago before signing up with WPX Hosting. Checkout the graph below that is based on 3,173 WPX Hosting reviews that customers just like you have left. They have a 4.9 star rating out of 5.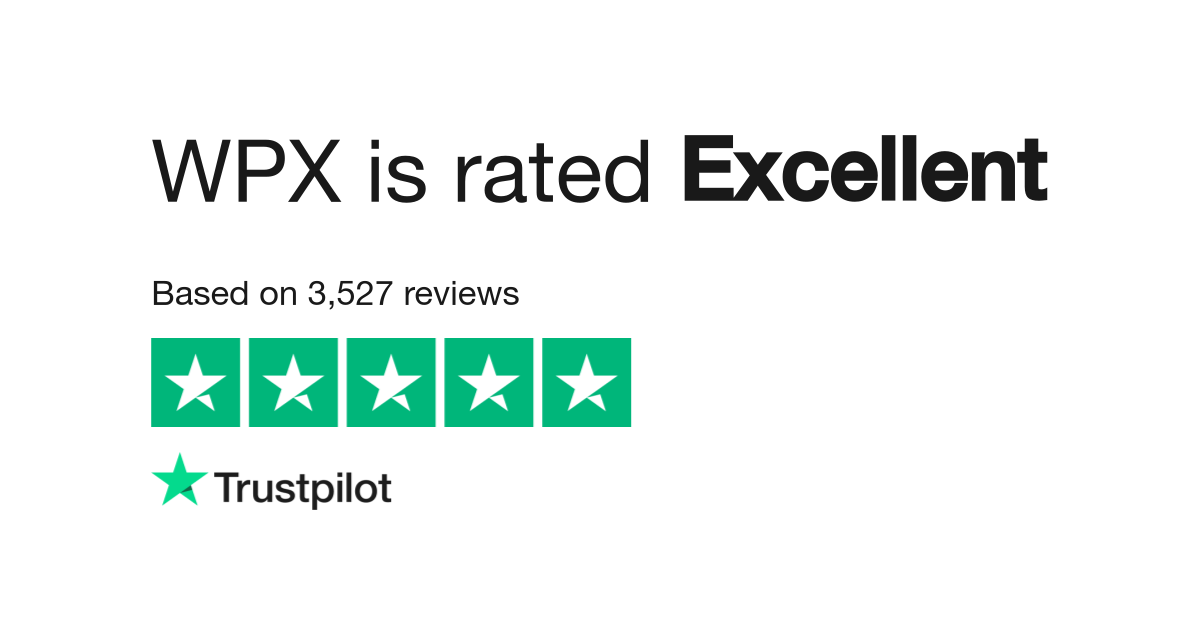 As you could clearly see above, the customer support for WPX hosting is excellent! Based on the reviews online, this is the breakdown for you:
97% stated that WPX Web Hosting was

Excellent

<1% felt WPX hosting was Great
<1% said is was Average
<1% said it was Poor
2% say it was a Bad web hosting provider
Also checkout some Facebook WPX web hosting reviews. They have tons of great reviews and positive feedback from their clients who use their WordPress hosting platform. They have a 4.9 rating out of 5 which is awesome! I took some time to research this and found that people rave about their great friendly customer support and server performance.
Matthew Woodard ran several tests with WPX hosting where they beat WP Engine, Liquid Web and Kinsta.
Also checkout this poll online that compares the top 20 Managed Hosting Providers. Notice where WPX Hosting is in the lineup. Although there are tons of competitors in this playing field, WPX Hosting came out on top!
WPX Web Hosting Reviews Conclusion
If you are like most who have hosting with WP Engine, then I know that you want to make a change TODAY.
WPX Managed WordPress hosting is an amazing provider that has very fast page loads, excellent customer support, rock solid security and excellent uptime performance.
I hope that this online research that I have done to put together our WPX Hosting Review overview was very helpful. If so, I would love to read your comments and feedback below. Also, tell me which of the 3 WPX Hosting plans do you think is best for you above and why.
Of all of the managed WordPress hosting companies online, I can say personally that WPX web hosting has really awesome feedback from its customers. Several respected websites give them very high ratings by customers. This is something that is very important to look for before buying web hosting. If there are a lot of complaints and bad reviews, then you would likely experience the same. Not the case with WPX Hosting 🙂 They have top notch web hosting services and their great reputation speaks for it. That's why I recommend that you use them today to make your website online.
WPX Hosting Pricing is jammed packed with true value with its managed WordPress hosting services and this is what makes it worth every penny! Will you try them today? What excuse do you have not to? Remember that they have a 30 day money back guarantee!
I hope you much success in your endeavors of creating your website should you decide to get start today with WPX Hosting!
WPX is a nice web hosting provider for WordPress users, however they is a another provider that is BETTER, FASTER. To see my #1 recommendation to create your website right now, click the button below!
Frequently Asked Questions About WPX Hosting vs WPEngine
Is WPX hosting shared?
WPX specialies in providing fully Managed WordPress hosting services that support high volumes of web traffic. When you purchase a WordPress hosting package, you will be sharing resources from 1 server assigned to host your site. The true difference between most shared hosting and Managed providers is that shared hosting stacks literally thousands of websites which will slow down your website or deprive your some resources. However, with Managed will have far less occupying a server which provides better performance.
Althougth WPX hosting is shared, their Managed WordPress hosting has faster page loads and rock solid uptime performance, excellent customer support that your typical EIG companies do not offer customers.
Who is the owner of WPX hosting?
Terry Kyle is the owner of WPX hosting and started it in 2013. He attended the University of Sydney. Although WPX hosting a European based WordPress hosting provider, they have data centers and coverage globally. Terry Kyle is also the owner of another custom software platform called Cloudboss.pro which hosts large numbers of html sites on cloud.
How fast is WPX?
WPX hosting is the fastest WordPress hosting provider as for page loads and customer support. WPX has 37 endpoints with FREE CDN along with LiteSpeed Server & caching. You can expect websites fully loaded in 1 second. Even Google stats that websites that load over 3 seconds cause visitors to leave. Thankfully WPX hosting understands how website performance affects SEO rankings and have all measures in place to delivery content fast.